Swansea took the lead with a goal from Ki Sung-Yueng in the 28th minute. The goal was in my opinion against the run of play but United had hardly run Swansea ragged before then. I don't think Yueng could believe his luck at being left completely alone by Ander Herrera and Darren Fletcher dead centre on the eighteen yard line. He just gently knocked the ball into David de Gea's far left post in front of a disbelieving Stretford End. Swansea's winner, scored by Gylfi Sigurdsson on 72 minutes was also against the run of play but despite Swansea catching United on the sucker punch twice, I believe they were good for their win.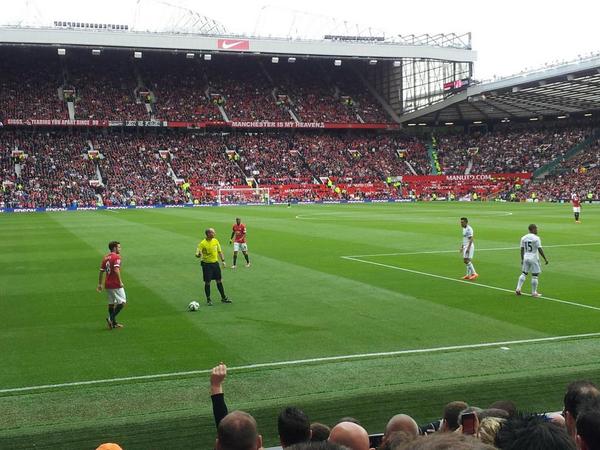 Juan Mata lining up a free kick in front of the Stretford End (Photo courtesy of Neil Meehan)
United whilst having lots of possession looked clueless when attacking. When Swansea went 1-0 up, I couldn't see where a United goal was going to come from. Wayne Rooney however did what any decent skipper and centre forward would do and equalised in the 53rd with an overhead kick from a Phil Jones header. In the recent past, United would've been expected to pick the game up by the scruff of the neck and go on to win. Last season however changed that presumptious expectation. United certainly attacked with more menace after the equaliser. Rooney was unlucky to hit the post with a free kick in the 65th minute, with Swansea keeper Lukasz Fabianski well beaten. When Swansea scored the winner seven minutes later, United's defending was hilariously naive. When Wifried Bony took a free kick near the halfway line, Chris Smalling was woefully out of position and Phil Jones was still in the Swansea half of the pitch! Out of nowhere United were stretched badly and as I watched through my fingers, chaos ensued in the Scoreboard End penalty area. Ashley Young attempted to handball the incoming Jefferson Montero cross having been caught out by the attack. With Young having luckily missed the ball, Wayne Routledge slipped onto his arse whilst still managing to cross back to Siggurdson, who was unmarked from eight yards out to score a goal straight off the training ground.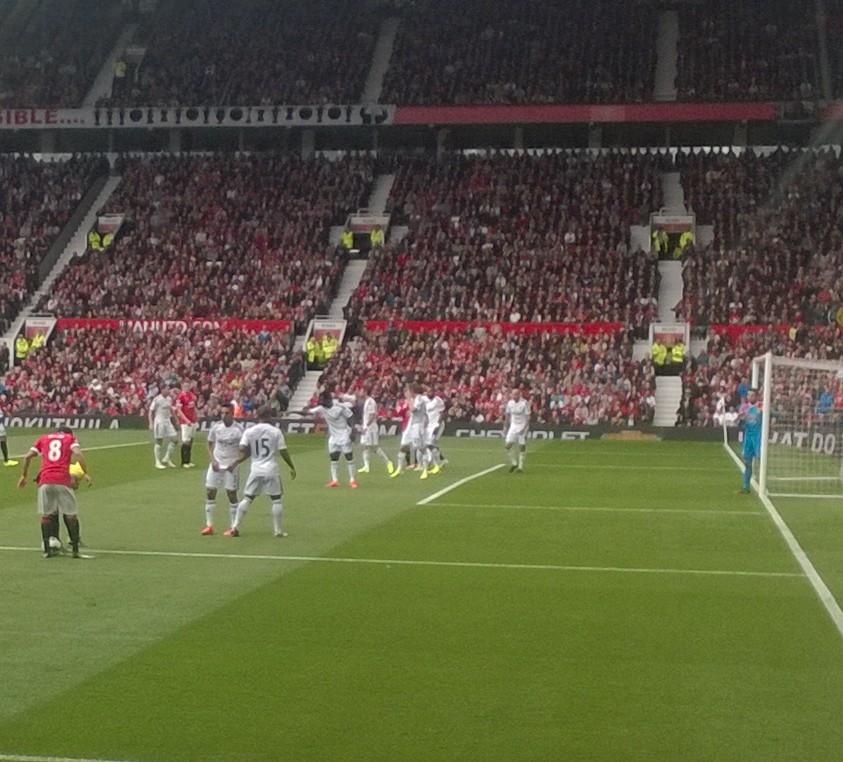 Juan Mata about to take a fee kick in the 25th minute in front of the Scoreboard End which forced a near post save from Lukasz Fabianski
After that United tried to get back into the game without appearing to know how to. There was some bad luck, Rooney got in the way of an Adnan Januzaj shot in injury time and further still, United were denied a certain penalty when the ball hit Angel Rangel on the arm from a Januzaj cross.
Until January the is year, Swansea had never won at United in their one hundred and two year history. Now their tone deaf fans from Cardiff overspill which is only known for being a place where people get their driving licences from, have taken their beeping Reliant Robins back down the M5 twice in the last nine months with a win from Old Trafford. Some might say it would be churlish to deny them their due credit but I disagree. Swansea fans may not be as bad as Aston Villa fans when it comes to half wit quota but they give the brummies a run for their money.
http://www.youtube.com/watch?v=dDdb0P3QMrE
As for United, when all's said and done, it's only one loss and whatever else happens I would ask my red brothers and sisters not to panic tonight. I'm confident that this side is too good to go down.