April 2000 – Madrid and Manchester
This was the first of only four seasons where there was to be two group stages in the European Cup. United had cruised through the second group stage without too much problem, beating Girondins de Bordeaux home and away and losing at Fiorentina just before Christmas, partially due to a rare Roy Keane mistake which gifted Gabriel Batistuta the first goal in a 2-0 win for the Viola. This season saw European football at saturation level. On the 21st of March 2000, I was high up in the almost vertical Estadio de Mestalla watching Valencia and United play out a 0-0 draw which was very convenient for both sides. I didn't know it at the time but exactly two weeks later, I would be back in Spain watching United play 200 miles from where I was at the Estadio Santiago Bernabéu. Back in Manchester on the Friday after the Valencia match about Midday, the news came through that United had drawn Real Madrid in the Quarter finals. Huge mobile phones were abuzz with all kinds of excited phone calls and text messages flying about with plans to go. I remember being sat by a computer on the Easyjet website ready to book flights from Speke to Barajas and it went swimmingly, return flights booked for four at a grand total of just under £350.00. Sitting there feeling very pleased with myself, we all went to the pub for an all dayer in good spirits. The first sign of worry came when we heard later on that day that the match at the Bernabéu was on a Tuesday night. We'd booked flights to go out on Wednesday morning and as everybody knows, once a flight with Easyjet is booked it's cast in Moses tablets and impossible to change. We found flights going out of Gatwick on the Tuesday morning with Air Europa which cost us just over £100.00 apiece that did have the consolation of the fact that we could smoke on the flight (in those days, a very rare privilege, nowadays illegal).
In Madrid, we had the usual shenanigans with the taxi driver from the airport trying to rip us off with a 500 peseta charge per bag carried, on top of our fare. We robustly advised him to 'Besame el culo'. That's the one thing that is the consistent the world over, you can always bank on an airport taxi driver trying to rip you off. Staying in a hotel on Calle Carmen, we soon found the inevitable Paddy bar on Plaza de la Cibeles, about a mile away from where we were staying. This was the first time I ever heard the City are a massive club song to the melody of He's got the whole world in his hands. This night, it only had about twenty five verses, including lines about Curley Watts, Liam & Noel, tallest floodlights and widest pitch amongst many others. It only reached gargantuan levels on a sunny day outside Villa Park a month later on the last day of the season after United had romped to the title a few weeks before. I had previously been in Madrid in October 1991 for United's game against Athletico Madrid. One thing I learnt about Madrid on that visit was that like Milan, it had no central square where everybody can gather and get pissed. Whilst mobile phones were becoming more popular, they didn't have the ubiquity that they have today so it was more a case of luck when bumping into fellow reds in them days in a place like Madrid.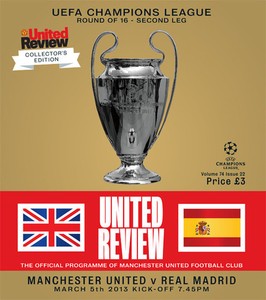 There was an incredible confidence amongst United fans at that time. In the early spring of 2000, Reds were still drunk on the achievements of the previous season. Whilst having an early season wobble, Particularly at Stamford Bridge, United by the time of this match looked unstoppable. The team were relentlessly running away with the title. Three days before the match in Madrid, United had demolished West Ham 7-1 at Old Trafford in what was a footballing exhibition. Having comfortably navigated their way to the European Cup quarter finals, all the talk I can remember was of people discussing how they were going to get to Paris for the final in May. All kinds of elaborate plans were being mooted, with the most popular being people driving over there in vans and effectively draining the warehouses and cash & carrys in Calais of all the alcohol available. All United had to do was beat Real Madrid over two legs and then beat the winners of the tie between Porto and Bayern Munich – piece of piss…
We got six tickets for the match at the Bernabau due to our kid having a mate who worked at UEFA's office in Genève. These tickets were supposedly in the neutral section but as you can probably imagine, there were very few United fans in there. We were in the back row of the bottom tier of the Lateral Este, almost plum with the eighteen yard line in front of the Fondo Norte. That night, in front of a crowd of 64,119 at the Bernabau, United, played cautiously against an apprehensive Madrid side. To our great relief, Steve McManaman missed a great chance in the 9th minute, heading the ball over when it would have been easier for him to score. Fifteen minutes later, Andy Cole missed a similarly easy chance and here was when things got lively. As we ooohed our way past Cole's miss, almost the entire stand turned around at us and started jeering. Luckily, whilst I wasn't with any 'firm', I was with people with bottle. We just stared back at them but we were very relieved to be on the back row as if there had been anybody behind us then it could've really come on top. All said, fair play to the Madrid fans near us, they tolerated us being there once we'd fronted them without any mither. If that had been in somewhere like Italy for example, it doesn't bear thinking about how ugly it could've got.
There was a sense of terror amongst us every time Real Madrid got a free kick within reasonable distance of goal. This was due to Roberto Carlos being Real Madrid's free kick converter. The truly incredible goal he scored for Brazil in Lyon at the Stade de Gerland in May 1997 was still a fresh memory in the minds of reds. Rather carelessly before half time as if to tease us, United gave away four free kicks in dangerous postions. The roar of anticipation as Carlos ran up to take these free kicks from the Real Madrid fans was akin to the sound of a crowd watching a matador. Everyone of those free kicks hit the wall, a classic case of the bark being worse than the bite but they were heart stopping moments all the same. Ryan Giggs was fouled when clean through on goal in the 64th minute when Real Madrid's Basque centre half, Aitor Karanka tripped him as he was about to pull the trigger. How or why Karanka wasn't sent off by French referee Gilles Veissiere is anybody's guess. After the final whistle, there was a buoyant feeling amongst Reds of a job well done. Personally, I thought Madrid were there for the taking and I think they were pleasantly surprised by Uniteds tactics, which to me were reminiscent of the debacle in Monaco two years prior.
In 2000, I was a baggage handler at Ringway airport. This job gave me certain privileged access in the airport to witness incoming celebrities and other such people if I had the inclination (I rarely did). I did however go into the arrivals hall after Real Madrids chartered aircraft had come onto stand. After the Real Madrid team had cleared passport control, I vividly remember seeing Steve McManaman giving it the big I-AM and leading his team-mates down a staircase. As he suavely walked down the stairs, he slipped and fell flat on his arse to the universal laughter of not only the airport staff who witnessed it but his Real Madrid team-mates too. His famous scouse sense of humour deserted him as he went berserk at an airport cleaner until Raul came over and calmed him down.
Mark Bosnich had enjoyed a superb game in the Bernabau in the first leg of this tie. Nobody was to know it then but by the return game at Old Trafford, Bosnich had, against Sunderland four days prior in a routine 4-0 win, already played his last game for United. Raimond van der Gouw had been called up for the match at Old Trafford and twenty minutes into the game, he retrieved the ball from his net after Roy Keane had scored an own goal trying to clear an Iván Helguera cross. This was obviously a setback but not the end of the world. United had been playing well up to this suckerpunch. United came out for the second half and were caught cold within two minutes when Raul scored just inside the post after beating Mikaël Silvestre just inside the box. What happened five minutes later was devastating, Madrid's Argentine midfilder Fernando Redondo, done the reliable Henning Berg like a kipper with a piece of skill that he wasn't generally known for, before sliding the ball across goal for Raul to score into an empty net. I believe this moment changed Sir Alex Fergusons attitude to football. From here on in for a good seven to eight years, United played five in the midfield, particularly in European games. United's 4-4-2 style of football died this night. Memory and history have, since this match been written as if United got a footballing lesson but that to me is bollocks. That Madrid deserved to win is not in dispute, no team who comes to Old Trafford scoring three goals to win a match is going to fluke it. A 1-0 defeat maybe but not 3-2 however, United weren't outclassed. United were also very unlucky in parts, of all nights Roy Keane had this one to score his first own goal in a United shirt. Redondo's dummy on Berg summed the whole thing up to me, if there was one player in the Real Madrid side that you'd last expect to do that, it was him. United threw the kitchen sink at Madrid once Beckham had pulled a goal back on 65 minutes. For all that endavour, United had to wait until the 87th minute when Steve McManaman fouled Roy Keane in the Stretford End penalty area to give United a penalty. Paul Scholes made no mistake from the spot and United attacked Madrid with some tenacity, scoring again through David Beckham, before Perluigi Collina blew the full time whistle three minutes into injury time. That second goal only resulted in saving some face for United, which was only fair as a 3-1 final score would've been a travesty on the balance of play. Real Madrid would go on to beat Valencia in the final in Paris a month later. Three days after this match, on Easter Saturday, United sealed the title running riot at The Dell to lead 3-0 at half time and eventually beating Southampton 3-1. Whilst it's always nice to win the title, that's all it was this season. United fans would be loath to admit it now but there was a feeling of anti-climax over the retention of the title and the season's conclusion.
2003 Sydney and Manchester
The alarm rang at 4AM and I was ruing them last couple of schooners I had the previous night. Everything was arranged and in place and I was meeting a good portion of the sizeable Mancunian ex-pat community of Coogee bay at the Sports Bar in Kings Cross. We were right in the heart of the most renowned red light district in Australia. In this day and age in the UK, it's relatively easy to get a drink at any time of day but it has been like that in Sydney for a very long time. What wasn't so easy in Sydney was finding live European Cup football on the television. Fox sports showed an abundance of Premier League football but they didn't have the European rights. This bar that we were in, about a mile south of Sydney Central was about to get swamped with reds for the 4.45AM kick off. There wasn't the same confidence amongst reds as there was three years prior for this match. Real Madrid had the likes of Luis Figo, Zinedine Zidane and the truly magnificent Raul in their side and were reigning European champions. However United, who were just getting into gear for what turned out to be a succesful home straight for the title are not to be taken lightly. Ruud Van Nistelroy, Roy Keane and David Beckham were just some of the great players in Uniteds side. It wasn't out of the question that United could get a result in the Bernabau.
The game kicked off and it was soon abundantly clear that Real Madrid had got the bit between their teeth. In the first half, they were frightening. It is to this day, the best performance I've ever seen from an opposition side against United. The miracle was United were only 2-0 down at half time. When Raul scored on 49 to make the score 3-0, I was praying for a mercy killing. United had been obliterated. The subdued, half drowsy pre-dawn atmosphere in the Kings Cross pub had not lifted one bit. Three minutes after that, a dawn arrived both in the match and on the day. Ruud Van Nistelrooy headed home after an Iker Casillas parry from a Ryan Giggs shot, suddenly there was hope. Real Madrid continued to play well but now, with the confidence gained from that goal, United took the game to Madrid with a bit more zeal. Ultimately under the circumstances, especially after the first half, a 3-1 result was as good a damge limitation as we could expect. We all felt that United were perfectly capable of beating Madrid 2-0 at Old Trafford two weeks later.
Everybody both at the time and with a decades hindsight says that the return match at Old Trafford was a classic. So it was but at no point during the match did United really look like going through, despite the Herculean effort put in by the team. The harsh reality was that the tie was virtually over as a contest by the 51st minute when Ronaldo Luís Nazário scored his second of the night to put Los Blancos 2-1 up. This meant that United now needed to score four goals without reply, a tall order against a mediocre side with 40 minutes to go, against the reigning European Champions? Not a chance. United equalised quickly when Ivan Helguera did what he himself had forced Roy Keane into doing three years earlier when he diverted a Juan Sebastian Veron shot into his own net. What happened next, on 58 minutes, I believe  finished Fabian Bathez's career at Old Trafford. For reasons known only to himself, he was stood on his five yard line as Ronaldo Luís Nazário looped a shoot over his head and into the Scoreboard End net at chest height to complete his hat-trick. What happened eight minutes later was unique in my thirty two years of watching United. Vincente Del Bosque, clearly and rightly confident that his team were through took Ronaldo Luís Nazário off and he was given a standing ovation by the Old Trafford crowd. Two minutes after that, Steve McManaman was substituted to a markedly different reaction, the contrast still makes me chuckle. I also believed that this night marked Juan Sebastian Veron's card with Sir Alex Ferguson, in my opinion, prematurely. David Beckham came on for La Brujita on 63 minutes and within seven minutes equalised with a typical free kick. With six minutes of normal time to go,  David Beckham scored his second goal of the game to complete, what he later described as his 'great night' (Beckham, 2003: 360). The most frustrating thing about this about this outcome was that Real Madrid would be knocked out in the semi final by Juventus, a team that United had thrashed in the Stadio delle Alpi in February in the second group phase. Real Madrid would go on to succeed Valencia as La Lilga champions at the seasons end. United would grab the title off Arsenal with some mesmorising performances at the conclusion of this season but the title win was misleading. In the summer David Beckham and Juan Sebastian Veron left and in came eighteen year old Cristiano Ronaldo, Brazilian world cup winner Kleberson and the now infamous Cameroonian, Eric Djemba-Djemba. A man whose recruitment was intended for the long term replacement of Roy Keane. This was the begining of a three year transitional period for United.
This article first appeared in the Red News Real Madrid special, published in February 2013. To subscribe to Red News, go to www.rednews.co.uk