After a first half of such incompetent tedium, a very pissed off United following roared 4-4-2 and Attack, Attack, Attack-Attack-Attack from the upper tier of the School End at Loftus Road. This was a statement intended to ring in the ears of the United players as they walked off the pitch. Watching the first 45 minutes, it was difficult to see who exactly was in a perilous relegation battle and who had aspirations to play in the Champions League next season. It was a diabolical first half performance
and were it not for David de Gea (yet again), United could have been two goals behind as the break approached.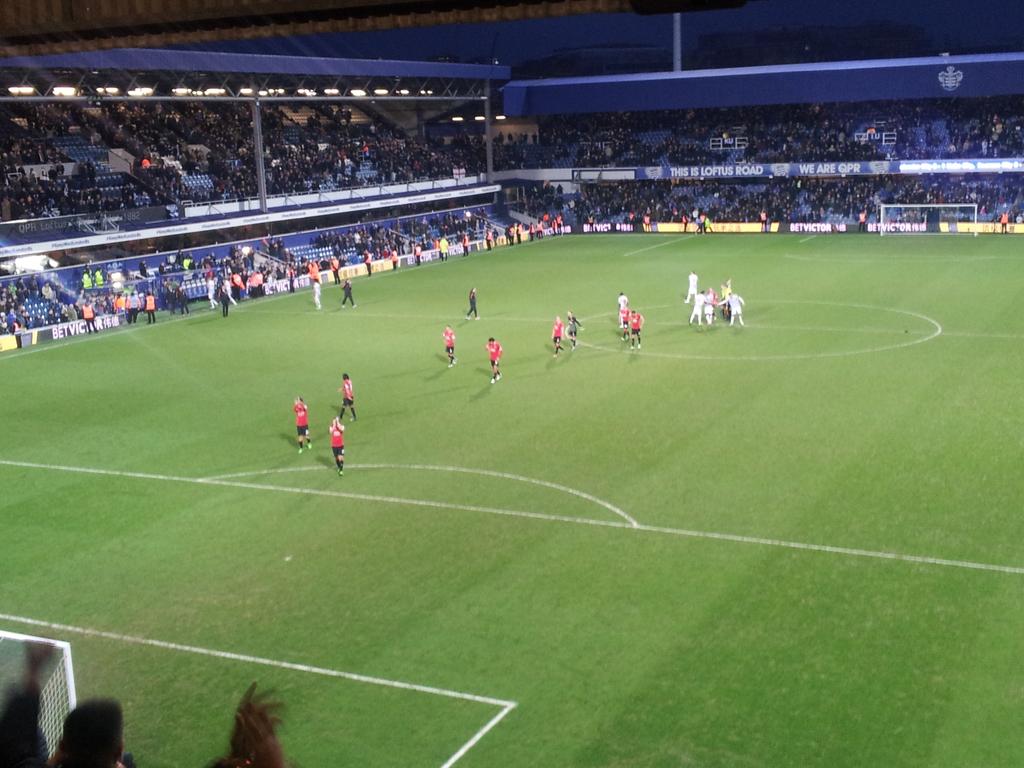 United players thanking the traveling support after the final whistle (photo courtesy of Neil Meehan)
A fantastic pass from Juan Mata in the 13th minute found Radamel Falcao and he should have scored with only Rob Green to beat in the Queens Park Rangers goal. Seven minutes later saw de Gea make the first of his two six million dollar saves from Austin during the first half. This was after Bobby Zamora robbed Jonny Evans too easily in the midfield. Evans, a popular bloke around Old Trafford is, for all that, not up to being a long term United centre half. He is the promising youngster who has suddenly turned 27 and is now promising far more than he can or will deliver. Zamora is a proper old fashioned centre forward who can give any centre half a nightmare but Evans should now have the experience to deal with a player like him. This is happening too often now.
In the 56th minute, Falcao was denied by a great save from Green. A minute later, James Wilson replaced Evans and, from having three centre halves, United changed to a flat back four. It can be no coincidence that a couple of minutes after United changed formation, Marouane Fellaini put the Reds in front with a well-taken half volley from eight yards. This was after Antonio Valencia, for once, had found a United player with a cross.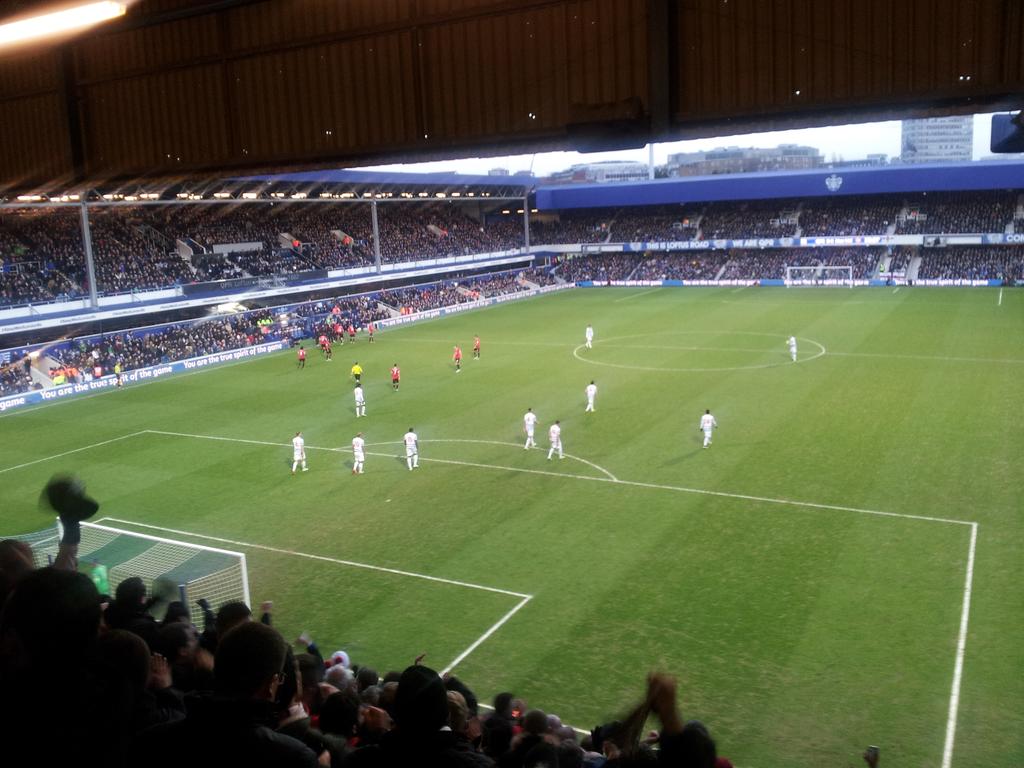 United players chasing Marouane Fellaini as he runs to the United bench to hug Adnan Januzaj (photo courtesy of Neil Meehan)
In the 75th minute, a comedic moment between Michael Carrick and Marcos Rojo, which just about sums up United at the moment, should have seen a QPR equaliser. United were helped greatly by the fact that QPR are as bad going forward as United are in the midfield. Eduardo Vargas capitalised on the mistake between Rojo and Carrick and suddenly, QPR had a three on one attack on the United goal towards the Loft. Vargas played the ball too far back to Zamora and United got away with it. It's in moments like this that you understand why QPR haven't beaten United since New Year's Day 1992. A minute later, a James Wilson cross was nudged out of Falcao's path as he was about to make the score 2-0. Falcao is coming in for some criticism from United fans, with three goals since his loan move was announced in late August, that can be expected. The three goals he has scored have been important ones: the winner against Everton and equalisers against Villa and Stoke. In other words, they're not the fourth in a 5-0 win. Without those goals, United would be in 7th place. The thing about Falcao is that he is obviously a top centre forward, much in the same way that Diego Forlan proved himself to be once he left United in 2004, after scoring 17 goals in 95 games. It just didn't work out for the chronically unlucky Uruguayan at Old Trafford. It's beginning to look that way for Falcao too alas. United have an option of buying Falcao at the end of the season for an eye-watering amount of money. From what I've seen up to now, I'll be amazed if Louis van Gaal takes up that option.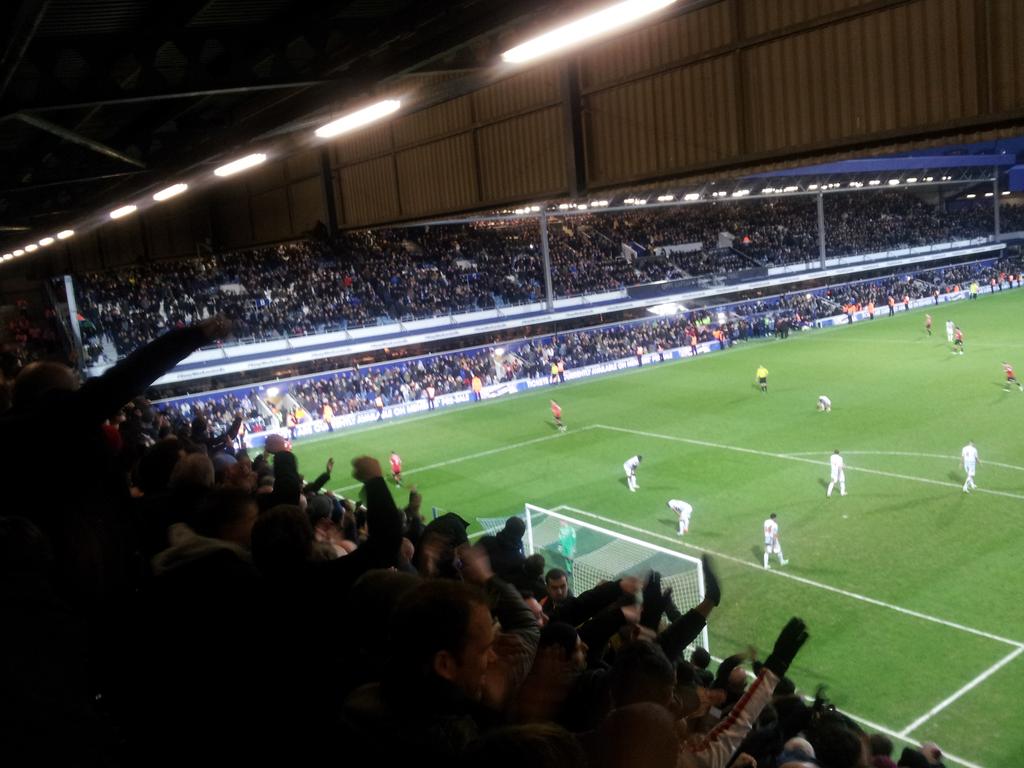 James Wilson runs to the corner of the School End and the South Africa Road stand after his injury time goal (photo courtesy of Neil Meehan)
James Wilson sealed the points in the third minute of injury time as QPR's defence stood around like statues, after he originally forced Green into parrying his first shot. This was a great relief for the travelling Reds after yet another poor performance.
https://www.youtube.com/watch?v=Aiuvg3ejdLs
This was a hard match to get a ticket for. This season, QPR have reduced the allocation of all travelling supporters to 1,800. The lower tier of the School End is now allocated to home supporters. I know of one bloke who paid £200 for a pair of tickets (with a face price of £54.00 each), such was his desperation. I watched the match in the…(sorry Rupert)*. As for the stewards, fair play to them, they dealt with the United fans with good humour and efficiency, not something to be taken for granted when visiting London.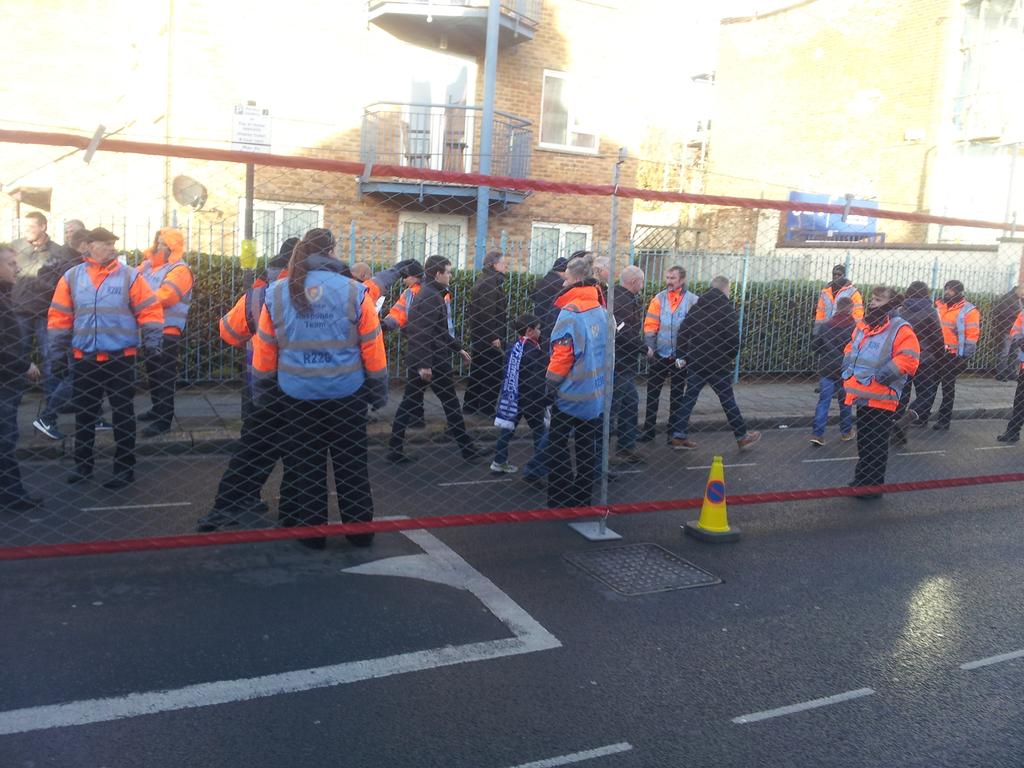 A mesh fence separates the visiting barbarians from the ever so civilised locals on Ellerslie Road (photo courtesy of Neil Meehan)
It's impossible to say with any certainty how this season is going to finish up. Due to the fireman's job that van Gaal has been left to do, United fans are very tolerant of this rubbish that the team are presently playing. Most people know that the main aim this season is to get back into the Champions' League for next season and anyway will do (within reason). One thing I can say with complete confidence is that with United now getting to the forty point mark with this win at Loftus Road, they will not be relegated this season. That's one thing to raise your glass to.
*You didn't think I was going to mention the name of a pub showing match on here did you?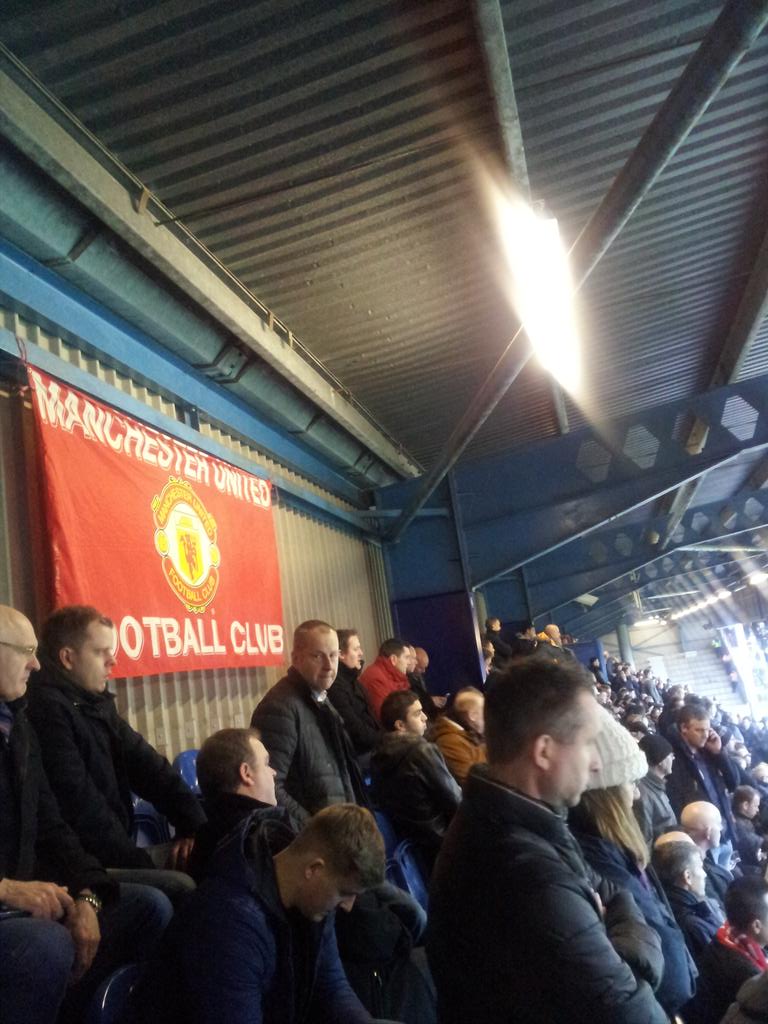 Thanks to Neil Meehan for the photographs and his help in writing this