This was a bad dream right? Somebody please tell me this was a bad dream…
OK then, if you think I'm going to say a word about that shambles I and 1,300 (approx) other reds have just witnessed then you've been smoking some pretty strong stuff and I want some of it now brother/sister (equal rights, right?).
The most interesting thing to occur in the first half was when a fight went off in such a way in the South Hobin terrace that the riot squad turned up. The scenes unfolding would have had Danny Dyer screaming like a South American football commentator. This was a proper "off" which went on for well over a minute. Eventually, three United fans were pulled from the melee and taken out of the ground. Immediately after that, the police were deluged with other United fans begging to be kicked out. The police refused to oblige.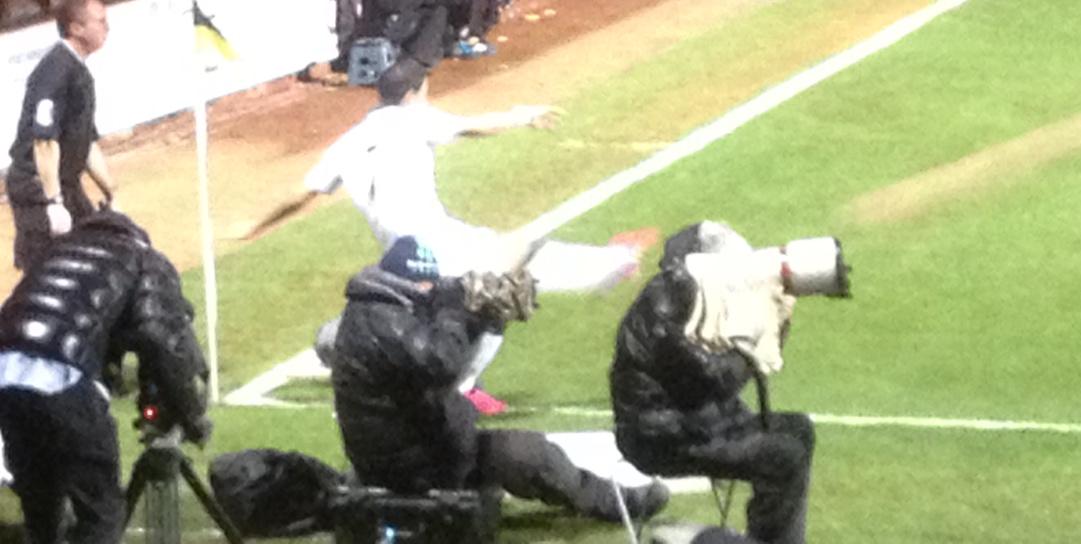 United fans were as a whole pretty subdued after a lively and boisterous start. As the full display of comical incompetence was unfolding, reds looked at each other in open mouthed disbelief. They didn't know as to whether to scream in anger or laugh as Antonio Valencia kept on trying to prove that he can control a ball with his shin. (I chose the latter)
One positive thing to happen tonight was the appearance of Luke Chadwick as a Cambridge sub in the 76th minute for Liam Hughes. Chadwick left United in the summer of 2004 and we never had the chance to acknowledge his work for the United cause, so it was nice for United fans to serenade him as he came onto the pitch. The added bonus was the look of bemusement on the faces of the Main Stand at the Abbey Stadium, most of whom were attending their first game of the season. Tonight's attendance was 7,967, over three thousand more than their average of this season of 4,785.
Because I neither have next to nothing to say about the game, or can bring myself to talk about it, I can indulge in a Bill Bryson-esque travellers review of Cambridge (if you'll forgive me). A statistic that I have just entirely made up proves that you are 84% more likely to be run over by a bike than a car in Cambridge, or it certainly feels that way.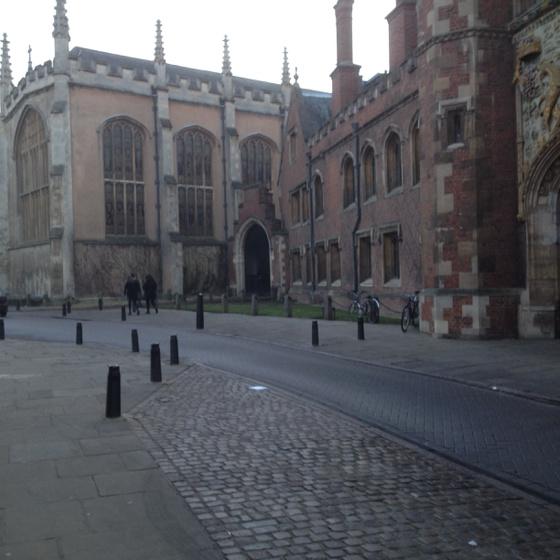 There was a strange atmosphere in this mecca of academia and beautiful aesthetics in the run up to the game. Half of the city seemed to be populated with international students who were blissfully oblivious to the match. Of all the united nations in this city, one thing was very noticeable. I didn't come across a single Australian backpacker. If that doesn't sell Cambridge to you then nothing will. On Market Square, some people were walking round with Jack Russell's wearing a little boys Cambridge shirt and there were some others who went to their first Cambridge United match in 1974, when Ron Atkinson was manager. They were happily and repeatedly telling their story to local journalists in such a way, that they resembled a dansette that needed the record changing…badly. On Radio Cambridgeshire, Chris Mann (what do you mean "who the bleedin' hell is he?") was giving out a hard luck story about Cambridge United that was so stirring, it nearly brought tears to my eyes. I was waiting for a rousing crescendo of trumpets as he was finishing his soliloquy. This was alas, not to be realised. He made Winston Churchill sound like Michael Owen, I was close to pumping my chest and shouting, "come on Cambridge". Thankfully, sanity soon returned when the perfectly balanced voice and views of Paddy Crerand turned up on the radio and all was well with the world. Almost twenty years to the day from his pièce de résistance of defending Eric Cantona from a baying mob of Fleet Streets most self righteous, Paddy was batting our corner with his usual forthright resilience. I only wish United had a man like him in the side tonight.
There is no way on this earth I am going to seek out footage of tonights match. to put on here. What I have done is to lovingly find the goals from the last time United were at the Abbey Stadium in 1991. The highlight of which is a commentator who doesn't seem to know the names of half the players who were on the pitch.
This was a bad dream (wakey wakey…)
P.S. Cambridge, thanks for Pink Floyd