It's back, the magic of the cup™, that time of the year when fans of smaller clubs are condescended for being the beating heart of football (© the media). We have bemused footballers who didn't grow up in the UK being asked what the FA Cup meant to them as kids growing up in, say, Germany, France or the Ivory Coast (real answer, "not a lot", official answer, "everything").
Despite BBC hype about this year's FA Cup, it's sad how many PL sides have fielded weakened teams, and sad all the empty seats in the stands

— Michael Crick (@MichaelLCrick) January 4, 2015
This year, the BBC and BT Sports have excelled themselves with their choice of third round matches to screen live. We have had the delights of Arsenal against Hull City, a repeat of last year's final, and a match that hardly anybody outside of Kingston-upon-Hull or Ashburton Grove cared about then, and care about even less now. On Tuesday, we have Everton against West Ham at Goodison Park live on the television, obviously done for the convenience of the visiting supporters in mind and the lifeblood of the game. I bet anybody anything they want that Goodison Park will be at least 10,000 below capacity. While those games have been selected by the TV companies, they decided that we didn't need to see Blyth Spartans against Birmingham City, even after Blyth's entertaining exploits in previous rounds, particularly against Hartlepool United. The Blyth match yesterday, like the last round, was a fantastic game of football. Elsewhere, at Spotland, Rochdale met Nottingham Forest, a club who have been Champions of Europe more times than Chelsea, Manchester City and Arsenal combined. Rochdale beat them but that wasn't picked for live television either. For the first time since United played Crawley Town at Old Trafford in February 2011, United have drawn a none Premier League side in the FA Cup. That's nine consecutive draws against Premier League opposition. Funny how all the conspiracy theorists that are forever bleating on about how United have got the FA in their pockets are shy of that particular statistic. Looking at today's performance, it's probably just as well United didn't play a higher ranked side. This was a dreadful performance from United. 
driven down and back to the game at Yeovil by @StuMathiesonMEN and Cliff Butler#MUFC,entertainment in car better than game. — Lou Macari (@LouMacari10) January 4, 2015
Lou Macari succinctly giving his accurate thoughts on the match
The only memorable moment of the first half came when Paddy McNair got a head injury in a collision with Kieffer Moore. The resulting stop in play and the bandage put on McNair's head made him look like Ernie from Sesame Street. Moore posed the first genuine goal threat in the 54th minute when he blew a great chance to put the home side in front.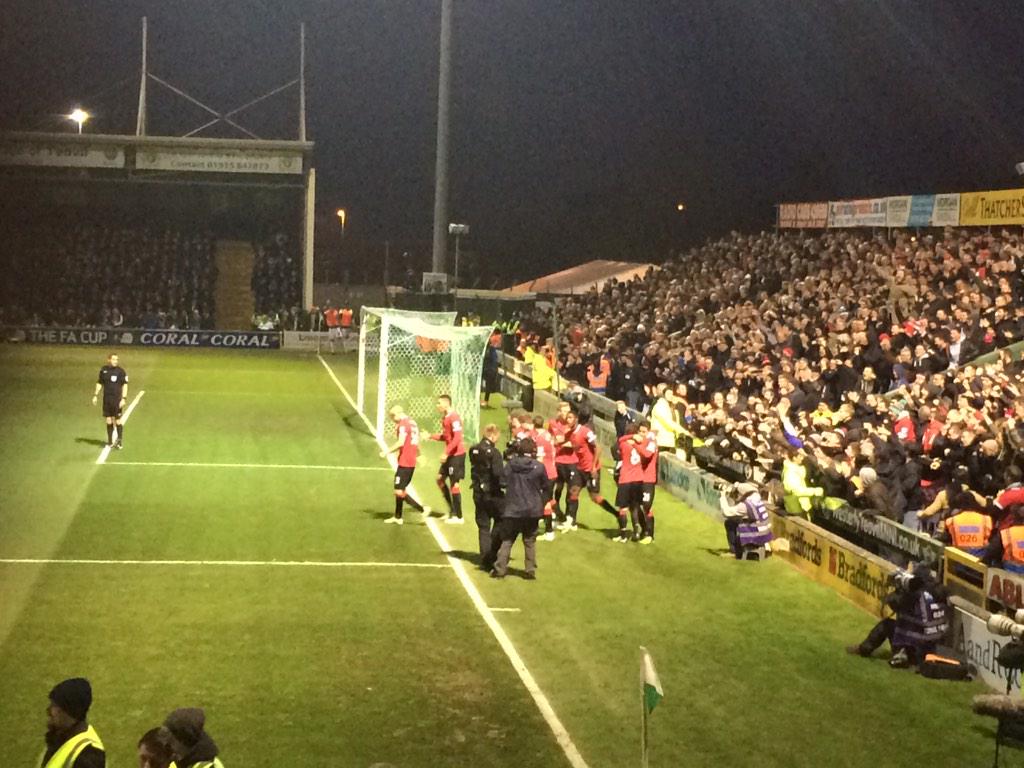 United players celebrating the first goal (photograph courtesy of Danial Burdett)
Ten minutes later, from a Darren Fletcher pass, a moment of instinctive genius saw Ander Herrera put United in the lead. When that goal went in, the relief of every United season ticket holder registered on the Richter scale as the horrible prospect of having £35/£40 extracted from our bank accounts to watch a replay of this game evaporated. From this moment, I was confident that a game and plucky home side would be taken care of by United. In the last minute, Angel di Maria broke from a long Wayne Rooney pass to put the game to bed for United.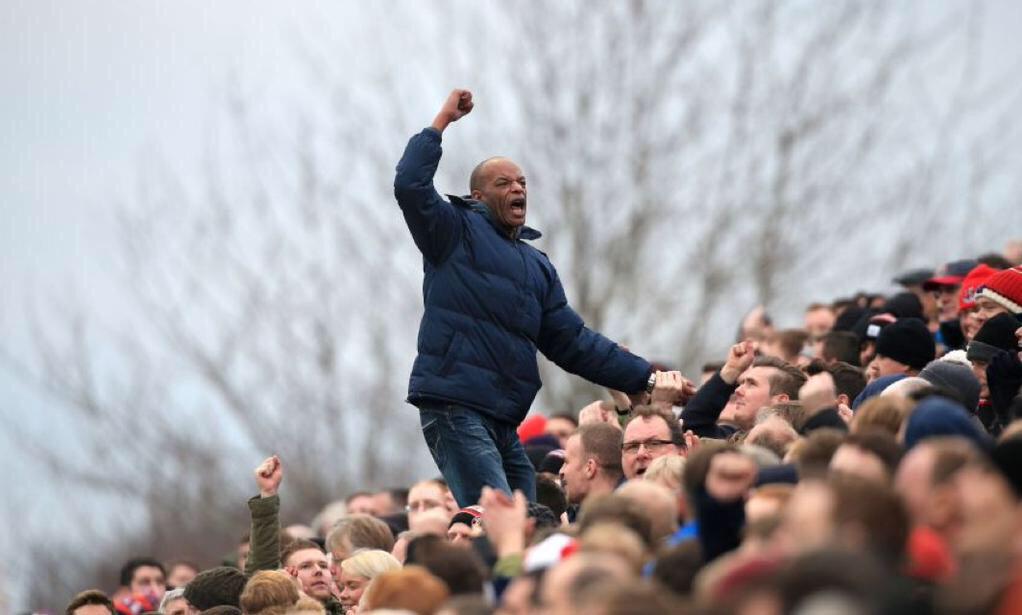 A very well known red leading the songs at Yeovil today
United got as much as they could possibly get out of this game. Nobody apart from Reds wanted a United win; the entire media who love an upset (for obvious reasons) were left dangling for another day. As expected, Reds travelled down in impressive numbers to pay £5.00 for a match programme and £30.00 for the privilege of standing on a terrace (aren't they supposed to be unsafe? That's what we're forever being told) and were met by a generally hospitable local populace, which was a pleasant surprise. A stadium in the middle of nowhere was mostly filled by excited locals (who support their local team) more than two hours before kick off. People who had, according to the media, queued up for seventeen hours to get tickets, weren't going to miss a minute of this match or build up today and fair play to them.
The most famous and historic cup competition in the world of football – I know let's use a pink ball, yeah, great idea. Chumps.

— Terrace Life (@TerraceLife_) January 4, 2015
A pretty intensive festive period for Louis van Gaal has seen United remain unbeaten, in a very good position in the imperative of being in the top four and into the fourth round of the cup. I feel that Van Gaal, a usually indefatigable man will be grateful for the relative rest he has coming in the next few days.  
'Yeovil True' playing to the packed crowd. "Day or night, I'm Green and White, We are Yeovil Town. Ooh Arrr!" — Andy Mitten (@AndyMitten) January 4, 2015
Thanks to Lee Thomas and Greg Stephens for their help in writing this
I like the Yeovil fans banner today #MCFC pic.twitter.com/U9Nesk9bK0

— Kevin Cummins (@KCMANC) January 4, 2015
This beacon of bitter blues shows that Manchester City fans are no longer interested in anything to do with United