United haven't lost at Villa Park since a League Cup match in October 1999, which resulted in a 3-0 win for Villa. I say this as if ever United could've come a cropper at Villa Park since that night, it would've been today. Everton and Newcastle have both recently lanced long held unbeaten records at Old Trafford for United. With those results in mind, it wasn't beyond the realms of ridicule that Aston Villa could end another long unbeaten run for United. That was the feeling 'til just after kick off.
United beat Shaktar Donetsk last Wednesday night in as low key a game as you can imagine at Old Trafford. Maybe the midweek result, courtesy of a rare Phil Jones goal, gave a United a badly needed confidence boost,something that had been badly lacking in the previous two games. The talk quietly emanating out of Aston Villa fans before the game was that United were there for the taking. There weren't many United fans of my acquaintance who disagreed with that opinion. What nobody had banked on was just how bad Aston Villa would be. I'm sat here scratching my head like Stan Laurel wondering how Villa have somehow managed to beat both Arsenal and Man City. From what I saw today, Villa are garbage.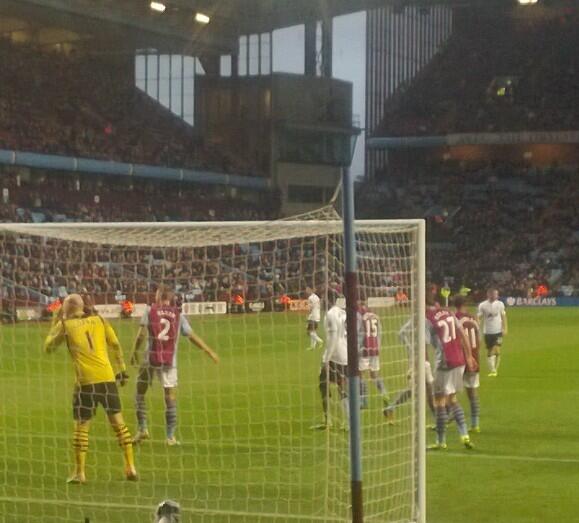 View from my seat amongst the Villa fans in the Witton End, as Wayne Rooney is about to take a late corner for United
I was incognito and poker faced behind enemy lines today, stood/sat with the Aston Villa fans in the North Stand Lower (Witton End in old money). The only words I spoke all match were "Orrice Mayce'* (please see below) as I was getting to and leaving my seat. This is the old away stand at Villa Park which Martin O'Neill changed to accommodate home fans in 2008. Amongst Villa fans near me, there was a feeling of weary resignation about how this game was going to work out and this was before United had even scored. That feeling of resignation was amplified on the pitch by a clueless and gutless Villa side. Rarely have I seen a home side play with such little heart as I saw Villa play today. They were abysmal and it didn't take long to see why there was so much pessimism around me.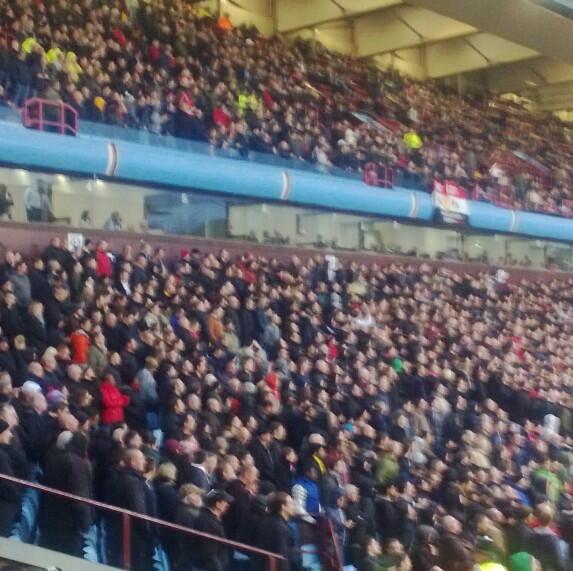 United fans in the Witton Lane, note that lack of colours. the antithesis of geordies
Maybe highlighting how bad Villa were is a little unfair on United. This was by an absolute mile United's best domestic performance since beating Arsenal five seemingly eternal, weeks ago. United ran riot and were 2-0 before 20 minutes with a brace by Danny Welbeck. At half time, Villa fans around me were expecting United to run up a cricket score in the second half. Seven minutes into the second half, Tom Cleverley scored his first goal in exactly a year, when he ran onto a brilliant pass by Wayne Rooney to put United 3-0 up via Brad Guzan's near post. This sparked off boisterous celebrations between United players and fans in the nearby Witton Lane Stand. Around me, an exodus had already started with Villa fans having already seeing enough of the game. Their half time predictions of a cricket score for United looked like coming good.
After this, United took their foot off the pedal. It got to the stage where United fans in the Witton Lane couldn't be arsed winding up Villa fans. Instead they concentrated on singing songs about Eric Cantona, Cristiano Ronaldo and Ruud Van Niistelrooy. One of the biggest cheers of the afternoon from the Reds came when Darren Fletcher came on in the 71st minute for Ryan Giggs. In the same exchange of substitutions, Ashley Young came on for Adnan Januzaj. Young, who is not the most popular returnee to Villa Park, was greeted to a series of half hearted boos from a Villa crowd who clearly revile him. Those boos however summed up Aston Villa as a whole this afternoon, half hearted bordering on pathos.
Alright mate*