It's not been a bad week. After last Sunday's stroll in Villa Park, United qualified for the League cup semi-final via a potentially tricky away match at Stoke City. With an almost biblical downpour of hailstones, referee Mark Clattenburg took both teams off the pitch on 30 minutes. That sagacious analyst on SKY Sports, Alan 'your nose is offside' Smith, was complaining about it being health and safety gone mad. Smith, a product of the mythical old school where men were men and all that bollocks, would have been the first onto Clattenburg's back if a player had acquired a serious injury due to the prevailing elements. Another great one from Smith was when he proclaimed early in the game that you could always guarantee a great atmosphere at Stoke. This was when the only noise that could be heard was the 5,000 United fans singing the Twelve Days of Cantona. Stoke fans, apart from their riposte (sic) of 'shit' everytime a chant of 'United' went up, couldn't be heard by a dog.
Once the teams returned after a ten minute break, Stoke were as clueless as they were before the break. Ashley Young scored his first United goal since May 2012 on 63 minutes with a belter. His celebrations earned him a booking and under normal circumstances, it could be looked upon as a soft booking. For all his faults, and there's a few of them, Young should be cut some slack for that booking. He's taken a lot of adverse criticism in the past six months, a lot of justified, but a good chunk of it not. When he scores like that, after all the shit he's taken, I think he's entitled to let off a lot of steam. He scored another great goal yesterday, to make it 3-0 for United. His celebration was a lot more restrained to the one on Wednesday. Young's goals are like buses, none for eighteen months and then two in a week.
United fans at Stoke on Wednesday night (Photo courtesy of Arm Stevestrong)
Fifteen minutes after Young's opener at Stoke, Patrice Evra made it 2-0 with a brilliantly taken right foot shot into Tomas Sorensen's far post. If there's one thing Stoke City and, by extension their manager, Chelsea legend Mark Hughes have, it's a fight in them. What little fight or heart Stoke had before that goal of Evra's, evaporated immediately after it. The only disapointment from a night which ended seeing United draw Sundeland in the semi-final, was that United won the match fair and square. With Stoke having such a lemon-munching twat of a manager, I was hoping that United's winner would have been through an outrageous dive from Young or Januzaj or, failing that, a goal from Javier Hernandez that was at least fifteen yards offside.
It didn't take long yesterday for United to pick up from where they left off at Stoke. Within two minutes, Tom Cleverley forced a brilliant save from West Ham's Spanish keeper Adrián. In the 16th minute, Adnan Januzaj was fouled in penalty area by James Collins but the referee waved play on. What was worse however was the the sight of the righteously wronged Collins and the ignoble Mark Noble hassling Januzaj in the immediate aftermath of that incident. There are things that need eradicating from Januzaj's game. The diving being the most obvious and that's what correctly saw him booked by referee Mike Jones on 41 minutes when he dived as a result of a Collins challenge. Whilst that needs sorting out, what is far more important to my eyes is that senior United players need to intervene when cart-horse opposition players like Collins and Noble are trying to intimidate young teamates. Not a single United player came to the aid of an eighteen year old teamate being mithered by two of the opposition. Could you imagine a United side with likes of Robson, Moses, Keane or Ince tolerating that?
Danny Welbeck, like Ashley Young, seems to have goals coming like buses. This time last week, Welbeck hadn't scored since the opening day of the season. Since last Sunday, he's scored three times in three games. His finish on 26 minutes after a brilliant one-two move with the selfless Wayne Rooney was as good a finish as I've seen from a United player this season. Ten minutes later, Welbeck provided Januzaj like Rooney provided him for United's second goal. Januzaj then left Collins spinning like a 78 record and put the ball into the same left hand corner of Adrián's Scoreboard End net that Welbeck had done.
View from the West Ham fans section yesterday
West Ham scored on 81 minutes with a goal that is most memorable for United's defensive incompetence. A minute earlier, Patrice Evra had been substituted for Alexander Büttner. United's backline of Jonny Evans, Chris Smalling and Rafael had gently strolled upfield to play usually useless Carlton Cole offside. What they hadn't banked on was Büttner gazing at the Winter Solstice sky whilst they were playing their offside trap. The look of shock on Evans' face as he saw Cole chasing clean through on David De Gea's goal was comical. I'm not sure if there would have been the same hilarity if the goal had resulted in a West Ham equaliser. A year ago in a League Cup match at Stamford Bridge, Büttner made a decent winger like Victor Moses look like Lionel Messi. With the forthcoming commencement of transfer activity and after that mistake yesterday, combined with that performance against Moses, perhaps it's a good time for Büttner's parting from the red scene.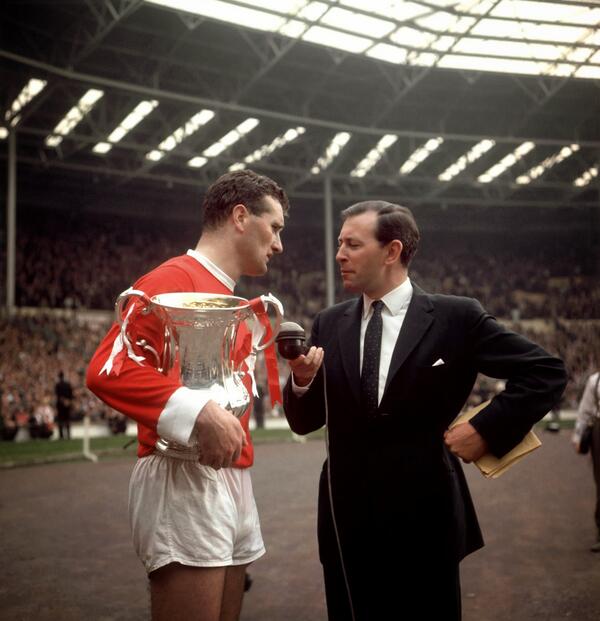 The best sports commentator ever, David Coleman, passed away yesterday at the age of 87. There's nobody around now that can touch him. Pictured above is him interviewing Noel Cantwell after the 1963 FA Cup final. R.I.P. 
Happy Christmas