Being in the Bullens Road stand at Goodison Park is like stepping back in time. We found ourselves right behind a pillar propping the upper tier. We swung our heads like people watching a game of tennis to see what was happening on the pitch. We bemoaned the fact that we had a lousy view of the pitch and about sixty minutes into the game, we were very grateful for the same reason. For all the poor view, there is something quaintly old fashioned about the Bullens Road stand. The concourse was tight and before the match beer was being served. When Kevin Mirallas put Everton 2-0 up just before half time, we had the consolation of knowing we could have a pint or two at half time to anaesthetise us from the shite we had just witnessed. A stream of reds went down to the concourse, every one to a man gagging for a pint. Getting there, we found that Police had banned the sale of alcohol for half time and for once, I don't think they were acting out of order. This was down to people with beer prior to the match throwing it indiscrminately on the concourse. Just to clarify, people were paying £4.00 for a pint of beer to throw it around like they were at an Oasis concert. I've been boozing since the late 1980s and trust me, I can think of far better things to do with a pint of lager that's cost £4.00 (or even £2.00 come to think of it) than throw it around. I do wonder sometimes what kind of dickheads we have following United, who in their right mind would want to throw a pint of beer up in the air? There was similar goings on in the Wetherspoons on Elliot Street across the road from Lime Street rail station before the game. We had a pint in there but decided to get out of there sharpish before the police turned up. We knew from past experience that they could kettle the entire pub. During half time, there were United fans and scousers shouting abuse at each other behind an aluminium wall. They couldn't even see each other never mind carry out the empty threats that were being made. I was stood with both amusement and bemusement at what I was seeing.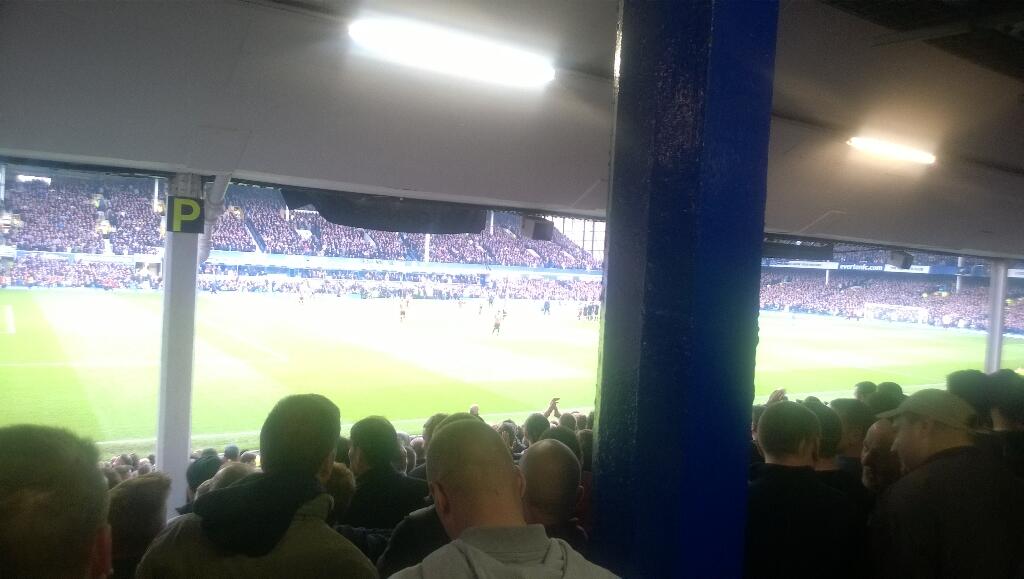 Plum Spot in the Lower Bullens stand at Goodison Park
I don't think this was United's worst performance of the season, that accolade goes to the Newcastle home fixture in December (with some stiff competition admittedly). The performance was though dreadful, devoid of any fight, threat or idea. When Everton went 1-0 in front with a Leighton Baines penalty, there was no feeling of United getting back into the game. We knew that the match was lost at that moment. There was absolutely no expectation or anticipation of United going up a gear. No faith of a swashbuckling comeback like there would have been in previous times. For the travelling reds it was a difficult pill to swallow from a team that is, at the time of writing, still the League Champions. It was an abject and spineless performance, one which may affect David Moyes position drastically at the end of the season. Moyes left an improving Everton side for an obviously declining United side. For that mitigation, United's performances, have this season largely been as bad as anything that was seen in the grim days of Sir Alex Ferguson's early incumbency. United couldn't even use the excuse of fatigue or lethargy for this apology of a showing. As Dwight Yorke said at half time, "These players are international players, the reason you play for Manchester United football club is because you're the best, but they're not showing it. Ten days rest, you expect the players to show up and be sharp."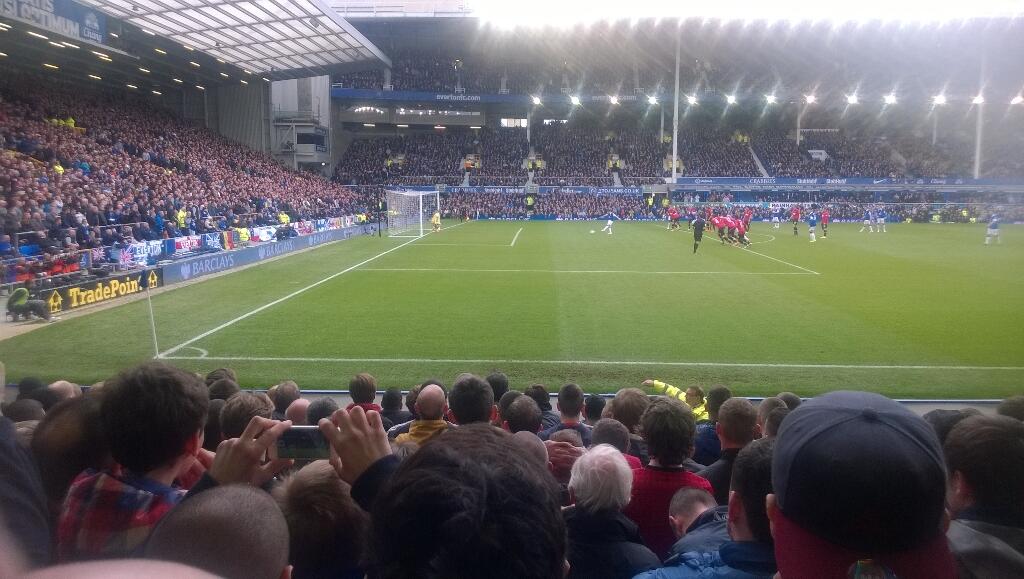 Leighton Baines about to put Everton in the lead
When United lost to Everton last December, they were unlucky. That was the night that I knew United weren't going to win this seasons title. Yesterday made mathematically sure that United weren't going to be playing in the European Cup next season. Unlike the match in December though, United got everything they deserved yesterday. David Moyes showed an admirable one eyed defiance in his post match press conference. If there was just a fraction of that defiance from the shambles of a side that he fielded yesterday, I'd have some hope for him. He looks to me like a man who cannot motivate his side and worse, they actually look confused when  in possession of the ball.
"We gave away two terrible goals, but prior to that we'd passed the ball brilliantly well and kept control of the game. We couldn't make chances and we got done by two stupid decisions, poor goals on the break. We played very well in the first half and came in two down. We didn't have a final through pass or a finish. I couldn't fault how we played, we kept the ball incredibly well."           David Moyes, Post match press conference, Goodison Park 20th April 2014
Some people said at the time of that pre Christmas loss to Everton that United would do well to finish top four, I thought they were scaremongering but they were obviously with hindsight, spot on. In March, giddy and gleeful City fans with memories of goldfish but with an inferior football knowledge sang, that United were "the worst fucking champions we've ever seen…". This from fans of the only club ever to have been relegated the season immediately after winning the title but they were on the right tracks. Statistically both Leeds United and Blackburn Rovers have provided a worse title defence in modern times (to be fair, I wouldn't expect blues to know about that), but even allowing for that, it's been a woeful season. Sir Alex has his share of culpability but even though he left Moyes with a declining side, what he didn't leave him was the clueless rabble that were an embarassment to the United shirt yesterday. United's first shot on target was from Shinj Kagawa in front of the Park End on 47 minutes. It was an easy save for Tim Howard to make but at least and at last, no matter how tame, an impotent United had made the Everton keeper earn his haircut. Before that shot, Leighton Baines had put Everton into the lead with a penalty on 28 minutes which went straight down the middle. This was after Phil Jones had decided to lighten David De Gea's workload and save a Romelu Lukaku shot which De Gea had covered.
One thing I can say with confidence is that if Moyes doesn't go this summer, then a significant amount of that squad will. Whichever happens, it's gonna be the liveliest summer seen at Old Trafford since 1995 when (for varying reasons) Mark Hughes, Paul Ince and Andrei Kanchelskis were sold by Sir Alex Ferguson. The following season saw a group of relative unknowns (whom are now loosely known as the Class of '92) prompt an infamous statement from Alan Hansen that everybody quietly agreed with at the time. Those players would be a major part of United winning the double a year later. I don't expect that to happen next season.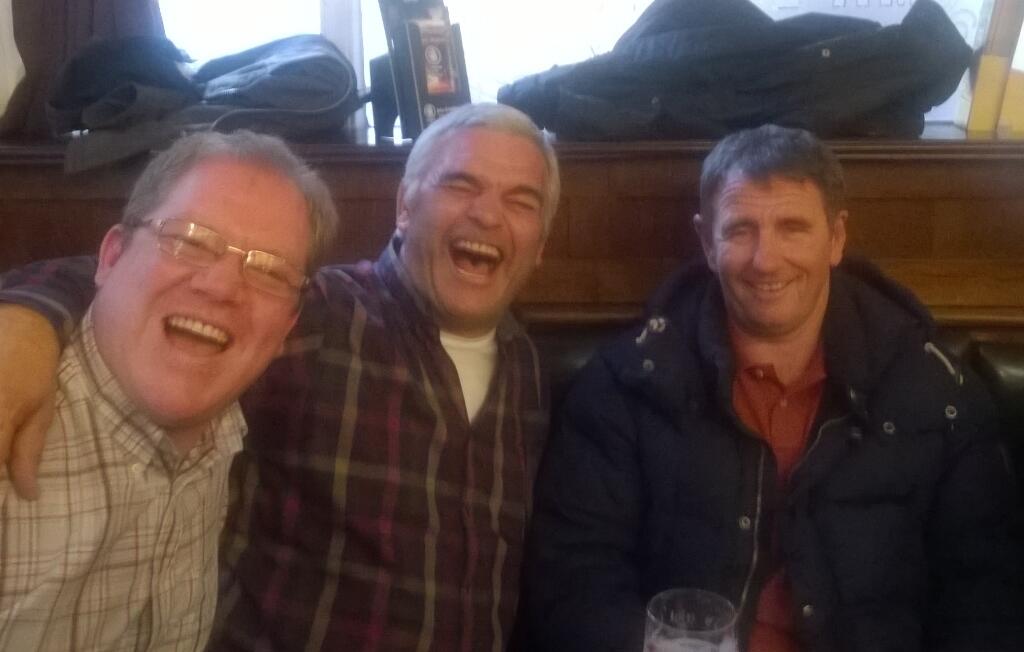 Reds enjoying the hospitality of Ma Egerton's next to Lime Street station last night
Thanks to Tommy Murphy, Steve Black and Steve Armstrong for their help in sorting tickets out. Thanks also to Derm O'Dea of www.starandgarter.co.uk for letting us use his car park