"I don't believe you, you're a liar – play fuckin' loud", drawled Bob Dylan at the Free Trade Hall on May 17th 1966. What followed was an exhilarating and venomously delivered version of "Like A Rolling Stone".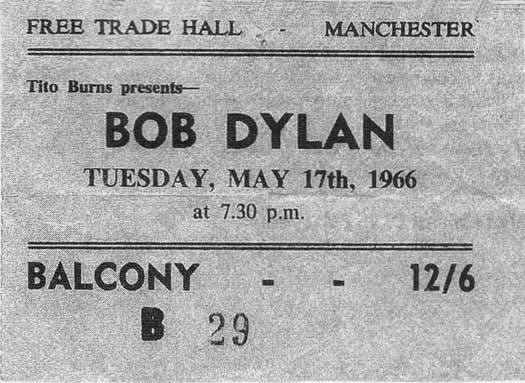 Dylan was angry and like his rival and contemporary, John Lennon, when wound up, he was brilliant. What rattled Dylan was a catcall of "Judas" from 16 year old Keith Butler in the audience because he was playing with an electrified band (The Hawks, who themselves would go onto have a distinguished career) and not acoustically.
Fans of folk music, who Dylan was strongly aligned to in his early career, were, and are, notoriously puritanical about their beloved genre. What Dylan did, in Butler's eyes, was tantamount to a betrayal akin to that of Judas Iscariot.
However, not everybody was as hostile to Dylan's new style of music. The following night, James Fox wrote in the Manchester Evening News that "During Dylan's concerts, there are no explanations, no introductions, and none of the usual political diatribes between the songs that are most common to protest singers. Despite this, or perhaps as a result of it, since it heightens the mystery, he is hypnotic on stage. The atmosphere at his concerts is one of tense and silent rapture, with the crowd leaning forward to catch every cryptic syllable of the songs they quote daily, like a religious manifesto, on street corners".
Dylan would not play Manchester again until April 1995, performing three nights at the Ardwick Apollo. A coincidence or a snub? We'll never know.
He played many concerts in between time and indeed, now in his mid-seventies, continues to tour prolifically. For the thousands of concerts that Dylan has played since that night at the Free Trade Hall, it's hard to think of a more famous one. What Butler didn't realise was that this was a huge moment in both his and Dylan's life as well as being a notable moment in the history of the Free Trade Hall, a venue that had more than its fair share of those moments from its opening in 1853, to its closure in 1996.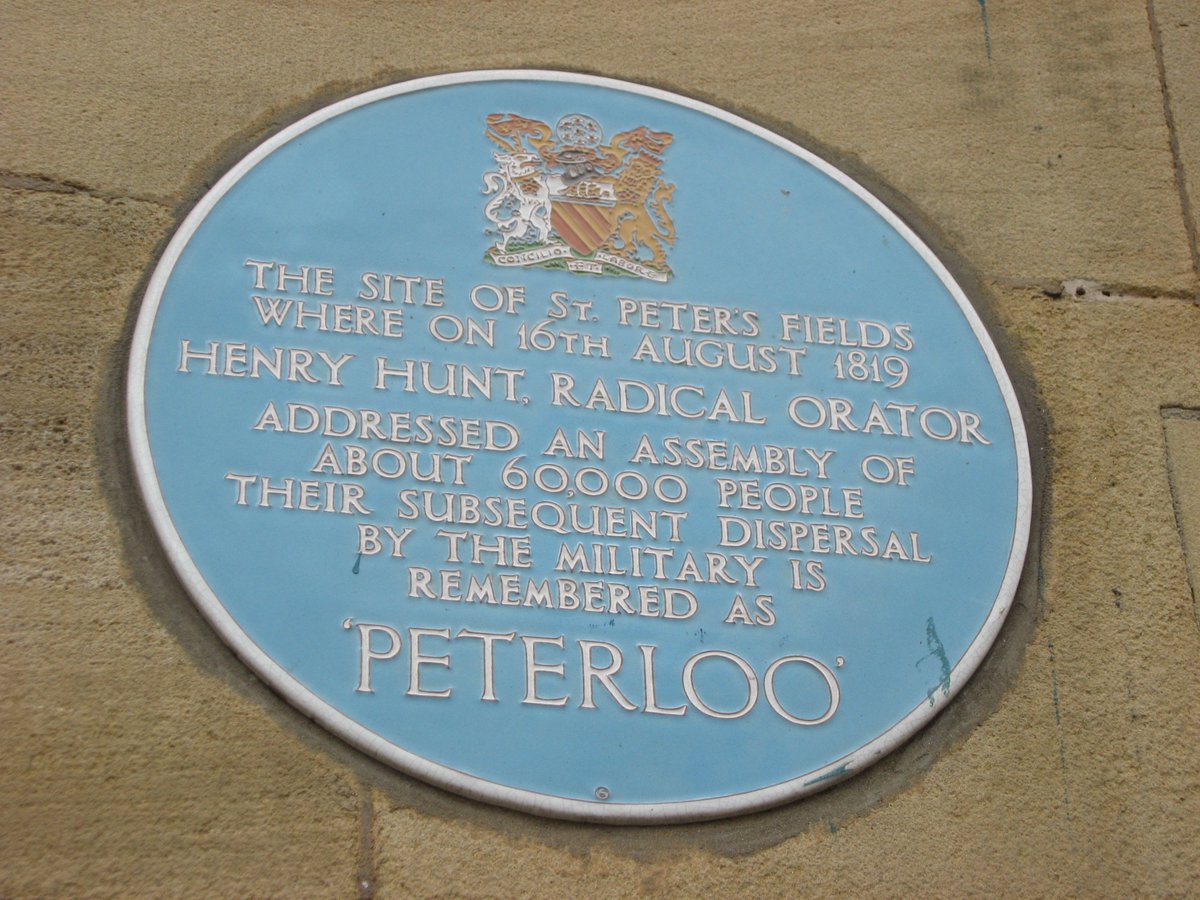 Built on the site of the Peterloo Massacre, the Free Trade Hall has also hosted speeches by Benjamin Disraeli and Winston Churchill, as well as performances by Charles Dickens, who enacted The Frozen Deep for a three night residency in August 1857. The Free Trade Hall was also a popular boxing venue. In September 1991, Salford's Steve "the Viking" Foster beat Colin Pitters of Birmingham. That night passed off peacefully, unlike another Foster fight in Birmingham three years later. September 1994 saw travelling supporters of Foster's, fighting with local fans at the NEC who were there supporting Robert McCracken. According to Harry Mullen in the Independent, the scenes "bore more resemblance to a 1970s football riot than anything previously seen at a British boxing show".
The full fight between Najib Daho and Pat Cowdell on May 24th 1986
While Mullen's distaste for what happened the previous night was obvious, it wasn't the first time there had been a crowd disturbance at a fight between a fighter from Greater Manchester and Birmingham. In May 1986, the Free Trade Hall saw Najib Daho, known locally as the Casbah Kid, fight Pat Cowdell for the British Super Featherwight title. Cowdell, from Smethwick, near West Bromwich, was the overwhelming favourite, but Daho, who was also a chef at the nearby Midland Hotel and based at the YMCA on Mount Street, knocked the Brummie out in the first round. Before the referee counted to ten, the ring was invaded by locals celebrating Daho's victory, which had Cowdell's camp screaming foul, but the referee ignored their protests.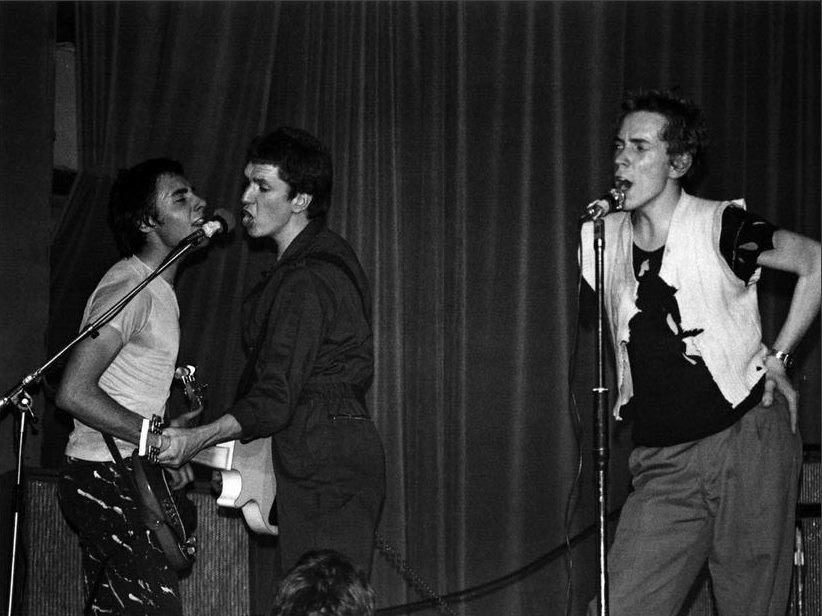 Ten years after the legendary Dylan concert, Hulme lad and United fan, David Murray, was at the now fabled Sex Pistols concert in the Lesser Free Trade Hall on June 4th, 1976. David says; "the gig was organised by Buzzcocks, but they didn't play it themselves. I remember Pete Shelley going around in that high voice of his asking people if they had lost any keys".
David recalls that the Pistols did about fourteen songs: "Most of them obviously were unknown but I vividly remember them doing (I'm Not Your) Stepping Stone by The Monkees and The Who's Substitute, which we all knew".
David added, "I know everybody swears they were at this show. I was there with four of my mates. I can't say for sure how many was there, but I reckon there was a big door fiddle going on. I was fifteen and going out with a girl at the time who came with us. The only reason we went was because we bought NME and Sounds every week religiously. The Pistols had got a little bit of press in '76 and it was mostly hostile. There were incidents going on but we used to read the NME and Sounds back to front so we were always aware of something coming up".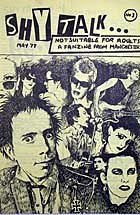 Steve Shy, a home and away Red from Moss Side, who was also the editor of the fanzine Shy Talk, saw The Sex Pistols play The Lesser Free Trade Hall on 20th July. Steve says, "I didn't know anything about the Sex Pistols. I was a soul boy at the time. The only reason I went is that I was working with Wayne Barrett and he was the lead singer from Slaughter and the Dogs. He mithered me to go and see his band, so I gave in in the end and went. I got what was happening straight away when Buzzcocks came on stage. Truth is, I enjoyed Buzzcocks as much as I liked the Pistols, even though the last band I'd been to see was the Fatback Band at the Apollo".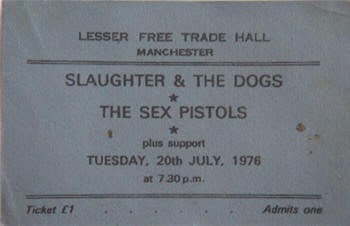 Steve was also bowled over with Johnny Rotten's onstage charisma. "The most memorable thing that night was Johnny Lydon's stare. It didn't matter where he was looking, or who he was looking at, you felt that he was looking at you. It sent shivers down your back".
Steve also explained that crowd violence was not exclusive to football crowds at that time, it happened at concerts too. Steve explains: "It kicked off between all the Wythenshawe boys and all the punk rockers who were there. The Pistols also had a firm that had come up from London with them, but after having a look, they wisely kept their heads down. I took my cousin with me and I remember her being under a chair at one time because people were throwing pint glasses against the wall. Obviously when they smashed, shards of glass would be flying everywhere. It was, for all that, a great night. This night was sold out, unlike the previous one on the 4th of June when as many people claimed to be there as City fans at Blackburn. I wasn't at that one".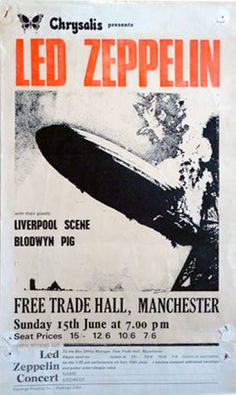 In that halcyon period of popular music between 1966 and 1976, the Free Trade Hall hosted many now revered names. In 1971 alone, the venue hosted three of the most popular bands in the world at the time: The Who, The Rolling Stones and Led Zeppelin.
Led Zeppelin played there on the 24th November 1971. Argentum Astrum, a local Red gig goer then and now, recalls that night: "The concert was very good and bearing in mind that Robert Plant had a cold, his singing was out of this world. I remember Robert Plant saying, 'It's good to be back in… I dunno… where are we? Manchester, yeah, it's great to be back in Manchester'. You can look back on that and think how glib Plant might have been, but once he'd got his bearings, he'd chat in between songs and even reminisce about a girl he used to see from Altrincham".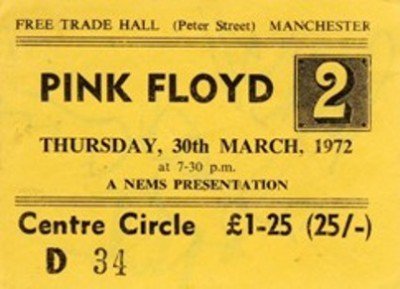 In 1972, Pink Floyd were touring the UK playing their Dark Side of the Moon album, which wouldn't be released for another year. On the 11th February, Floyd played the Free Trade Hall and started the show with the epic One of these Days. Then they started to play Careful With That Axe Eugene but soon after had to abandon the gig due to a power cut, which was a frequent occurrence at the time. David Bowie had a similar problem at the Hard Rock later on in the year. Instead of quitting the show, he just picked up an acoustic guitar and had his fans huddle closely around him. Despite the crowd at the Free Trade Hall similarly baying for Floyd to play acoustically, they were so reliant on electricity, both for the overall sound as well as the concert's spectacle, that it was impossible to do. This is just one more example of another massive moment in the annals of popular music history which happened at the Free Trade Hall.
Just over a month later, on the 2nd May 1972, Jerry Lee Lewis played there. Old Trafford stall holder, Malcolm Hancock, says "It was full of Teddy Boys reliving their youth and going mental. He didn't come on while late and when he did come on, the stage was invaded. Jerry Lee wasn't arsed, he just let them stay there. Some of them ended up playing the piano with him". Malcolm laughs, "As you can imagine, it was absolute chaos".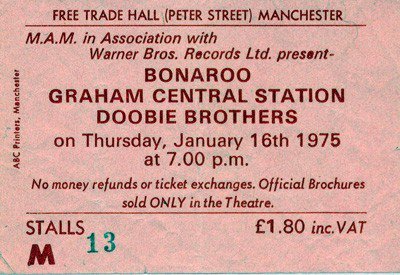 Another renowned pianist turned up a couple of years later. Old Trafford lad Russ McKee saw Elton John do a cameo spot with The Doobie Brothers in January 1975. Russ says, "Before the show, we'd been in the nearby Abercrombie on Bootle Street and it was full of pissed up coppers in their plain clothes after they'd finished their shift next door. In those days, we all had long hair so as soon as we got to the bar, they all surrounded us and started pulling our hair. It was like something out of Life On Mars. After that, we went over the road and one of the lads got in with the Doobie's road crew. They had this massive bag of cocaine and they'd sold some of this gear to Elton John, and he came on with a noseful of this stuff. After the show, The Doobies all went back to this lad's flat. The Doobies brought back a bottle of tequila and I'd never had that before. They were smoking this gear and I was off my head for about fifteen hours. A really good night, all sat around in a circle with these Americans".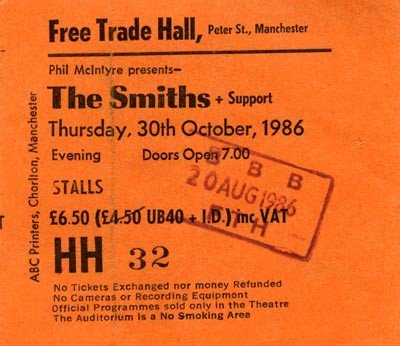 October 30th 1986 saw The Smiths play the Free Trade Hall whilst promoting their Queen is Dead album. Security had been stepped up for this show as three nights earlier at the Preston Guildhall, a member of the audience had thrown a drumstick onstage hitting Morrissey.
This night, a member of the audience held a banner up saying "Welcome Home" to the band as they walked out to the sound of Sergei Prokofiev's Dance of the Nights. The near religious fervor that Morrissey inspires in his fans was strongly evident that night as The Smiths ran through songs of their rapturously received latest album and some of their hits. What nobody knew this night was that this was to be The Smiths' last ever performance in their home city.
Whilst the Hacienda and the Russell Club have been demolished and the Hard Rock now lies disused and unloved on Greatstone Road, the building of the Free Trade Hall remains intact and standing proud on Peter Street. In 1858, five years after its opening, the Halle Orchestra made the venue its home and, apart from the intervention of World War II, the hall would be the home of the Halle until its closure in 1996. (They are now based at the Bridgewater Hall.)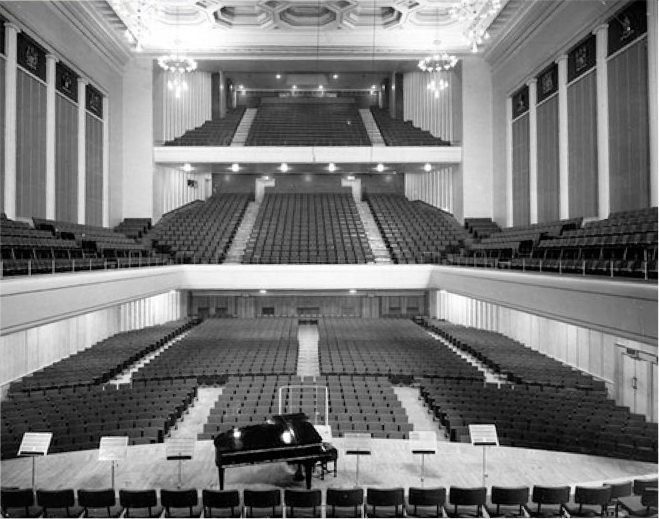 The Free Trade Hall reopened in 2004 as a five star hotel, The Edwardian. For facilities, it is probably one of the best hotels in Central Manchester, but to this writer, it feels like a travesty that a place of such monumental local historical significance can have its guts ripped out for a five star hotel. However, unlike other aforementioned legendary venues, at least it's still intact.
This article first appeared in Red News 234. To subscribe to Red News or buy this edition, click here