Following United's unprecedented win in Italy, all the questions and talk in town after Turin was (a) Are you going to Barcelona? (b) How are we getting there? (c) Where are we staying? (d) Have we got a ticket? (e) How much are the snides coming to? The respective answers were (a) Yes, (b) flying (c) Salou, (d) no and (e) £50.00. Getting to Barcelona by air out of Manchester was nigh on impossible, unless you were prepared to part with a mortgage-sized down payment for a flight. Through a friend whose sister worked in a travel agents (ha, remember using them?), we got a week's holiday in Salou for a relatively reasonable price with flights…out of Stansted. With United playing in the FA Cup Final two days earlier, this actually worked out quite nicely. With a distance of 47 miles, Stansted is not really anywhere near Wembley, but it's a hell of a lot closer than Manchester.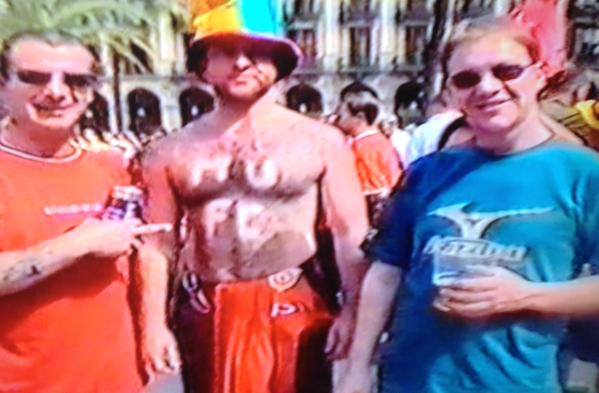 On the day of the match, as we got off the train at Barcelona Sants station, local prints of the British Newspapers were being sold in the kiosks scattered along the central reservation of Las Ramblas. I was passed a copy of The Sun and to my dismay, saw on page five that they had pointed out the spelling mistake that was on the snide tickets. The genuine tickets had Graderia on them (which means tier) and the snides were spelt with Granderia, which was what we had. It was the kind of mistake that would have made a particular Old Trafford t-shirt printer proud.
Having done a load of my swag in London the previous Saturday, I did the rest in Salou in the two day run up to the game. A new shipment arrived in Barcelona on the morning of the match. One thing I learnt in Salou was that the Germans were paying 2,000 pesetas (about £8.00) for the shirts where United fans were paying 1,500 pesetas (about £6.00)
Commentary by Clive Tyldesley and Ron Atkinson
For obvious reasons, I sought out the Bayern fans in Barcelona (who had mostly been in Lloret de Mar). The majority of them were hanging around the huge roundabout at Plaça de Catalunya, at the other end of Las Ramblas. Soon after, having sold all my swag to the Bayern fans, we stopped for a few drinks with some other grafters on Plaça Reia, a square just off the Las Ramblas. As per usual, we'd underestimated the strength of the local beer and whilst walking to the station, it dawned on me that I was bladdered.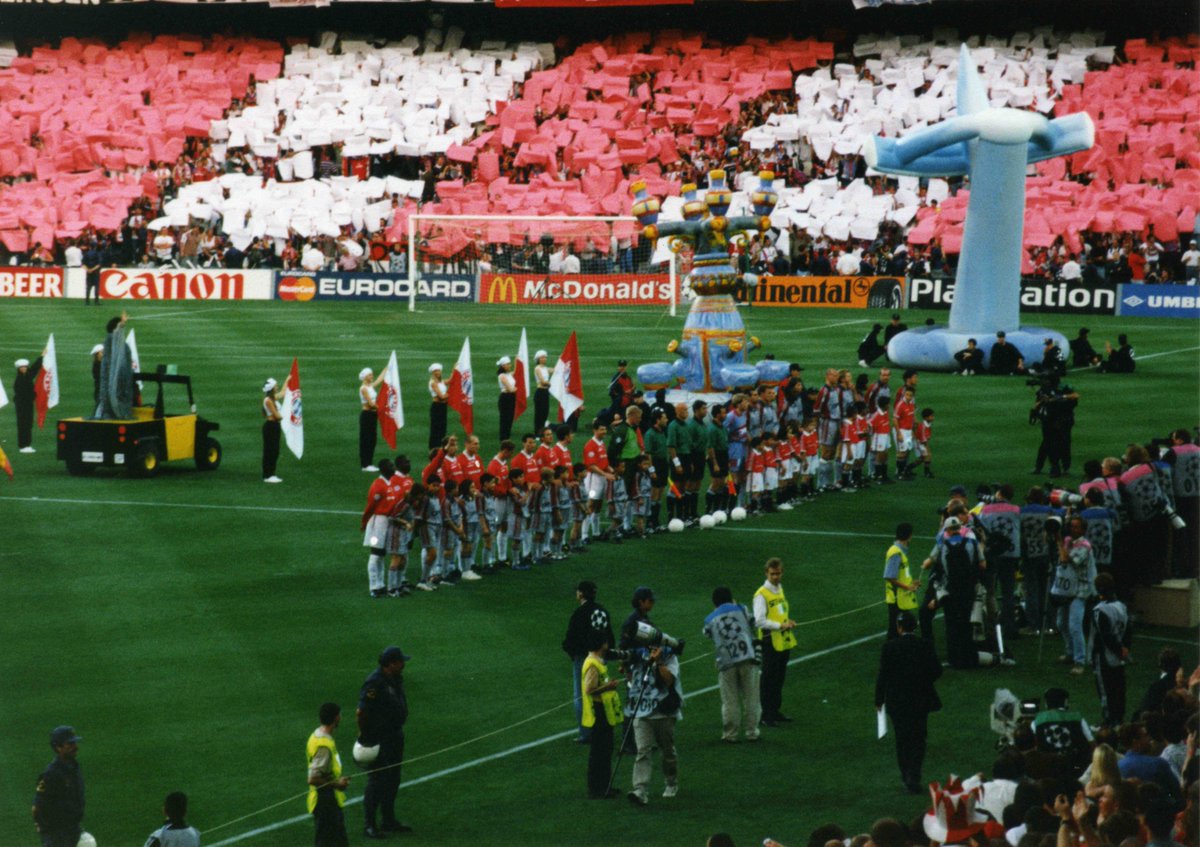 As we got to the nearby Liceu rail station, there was chaos outside, similar to the frightening scenes outside Estádio das Antas in Oporto a couple of years prior. One saving grace was that the Guàrdia Urbana patrolling the station entry didn't lose their heads, something you can normally guarantee when Latin police come up against pissed up fans of English football clubs. The nine stop journey to Maria Cristina rail station was a wall of Red noise. Soon after leaving the station, we hit the first of what turned out to be seven ticket checkpoints. Every time we passed these checkpoints, we thought we'd cleared the final hurdle of getting into the ground, even though we'd been there before and knew there were also turnstiles. As we approached the turnstiles, my Dad and Sister went before me and they were almost immediately carted out. I approached the turnstile with the same expectation but, to my amazement, I was cleared to carry on. I couldn't believe it. Now I had a problem. Alone and pissed in the ground with no idea where I should be, I just walked up the nearest stairwell and stood where I could once up there. I looked at the scoreboard and I could see that United were already losing 1-0. Just as I was settling in, I heard my name shouted, I looked left and to my disbelief, I saw my cousin. I could've gone anywhere in the ground but it happened to be there.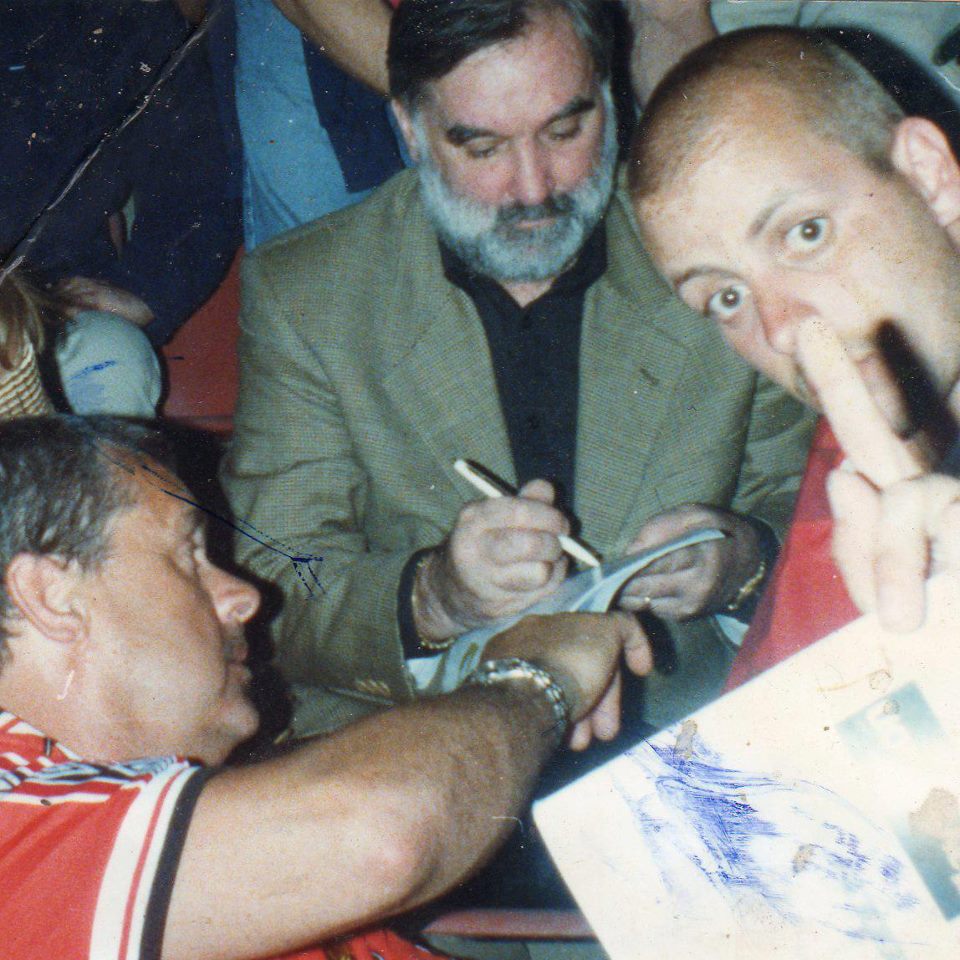 The game was terrible. United were being easily taken care of by a typically well organised Bayern side. As pissed as I was, watching this was a rapidly sobering experience. Andy Cole and Dwight Yorke, a partnership that had terrorised the cream of Europe that season had played one game too many. Ole Gunnar Solskjaer replaced Cole in the 81st minute and immediately forced Oliver Kahn into a near post save from a diving header. Looking back on the commentary, Ron Atkinson prophetically said to Clive Tyldesley about Solskjaer, "he only needs ten minutes". While the TV commentary was encouraging, the atmosphere around me in the ground was souring. No two ways about it.
The clock turned 90 minutes and Bayern continued to play with their expected precision.  Stefan Effenberg hooked a Gary Neville cross over the touchline to give United yet another corner. Peter Schmeichel went on one of his kamikaze runs. If you look back on United's equaliser, there's four Bayern players surrounding Schmeichel as David Beckham takes the corner. This definitely freed up space for United players. As Ryan Giggs mis-hit a shot in the direction of the Bayern goal, Teddy Sheringham also did the same but guided the ball low past Kahns's right hand side and 36 seconds after the board had gone up, United had equalised. I swear there was a split second gasp before an eruption of noise which would have scared thunder. The Bayern players were devastated, in a way I had never seen from any football side before or since. Some of them were on their knees, others just stood static still. They had this game won and now out of nowhere, they had another 30 minutes to play.
Official UEFA pitchside footage of the last three minutes. The reaction of the Bayern players on 2:35 says as much as the reaction of the United players
Everybody in the United end was ecstatic. The reaction was of such naked ecstacy, no pretence of cool or anything like that; the celebration was almost violent in its insane relief. All the United subs, clad in their white tracksuit tops came sprinting over to celebrate with Sheringham. Our kid later said to me that I nearly ripped his head off when Sheringham equalised.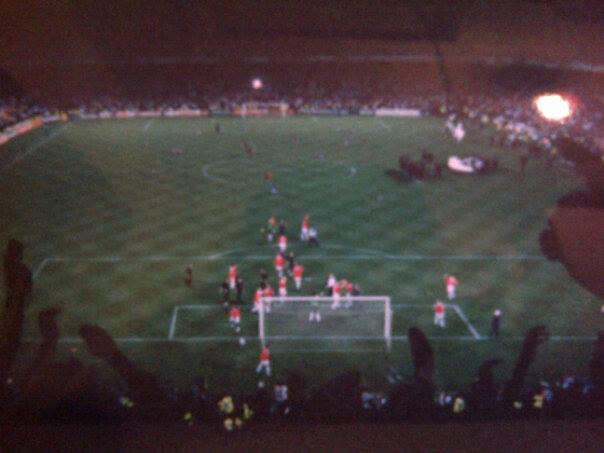 There was no worry of Bayern going upfield and getting a winner with time left, à la Arsenal in '79. We could see it in their body language, Ottmar Hitzfeld had the job of his life rousing this lot when the inevitable extra time team talk came.
Soon after, Samuel Kuffour grabbed hold of Solskjaer's shirt as the ball came in from another Beckham corner. Seconds later, Kuffour was wishing he had kept hold of it as the Norwegian hooked his right foot onto a Sheringham header to put United 2-1 up. There was 102 seconds between the goals. Scattered around the Bayen penalty area, Kahn was lay face down, Mehmet Scholl was sat with his back to the post, Effenberg was flat out and Kuffour was punching the grass. Referee Pierluigi Collina had to rouse them up and tell them there was still a game to play, he'd have been as well off blowing full time then.
Amateur footage from the United section, seconds after Sheringham's equaliser
Getting a train or taxi back to town was out of the question. Shanks Pony was the only way but the three and a half mile walk didn't seem so far on this wave of euphoria.  Las Ramblas was a sea of Red, celebrating long into the night. I remember seeing Bryan Robson and Viv Anderson near the Robin Hood bar on Las Ramblas. Robbo was plastered, Viv less so. As the night wore on, there was a slew of people who'd fallen asleep in the street on this balmy night, something the Guàrdia Urbana wouldn't normally tolerate, but the sheer scale meant they cocked a blind un. The local chief of police was at pains to praise the behaviour of United fans, he also said how ugly we all were and we all laughed joyfully as we were Champions of Europe – he could've said what he wanted to about us.
This was originally published in the September 2015 edition of Red News, to subscribe to Red News, click here