The first thing I had to do this morning was head over to Portland Street and drop off a ticket with a lad who was going to Hull on the UWS Monkey Bus. I wasn't to know this then, but this probably turned up the most interesting sight of the day – the walk of shame I saw en route. It was 10.30 and I've never seen so many girls doing that walk, at such a late hour of the morning. It could easily be called the Portland Street catwalk…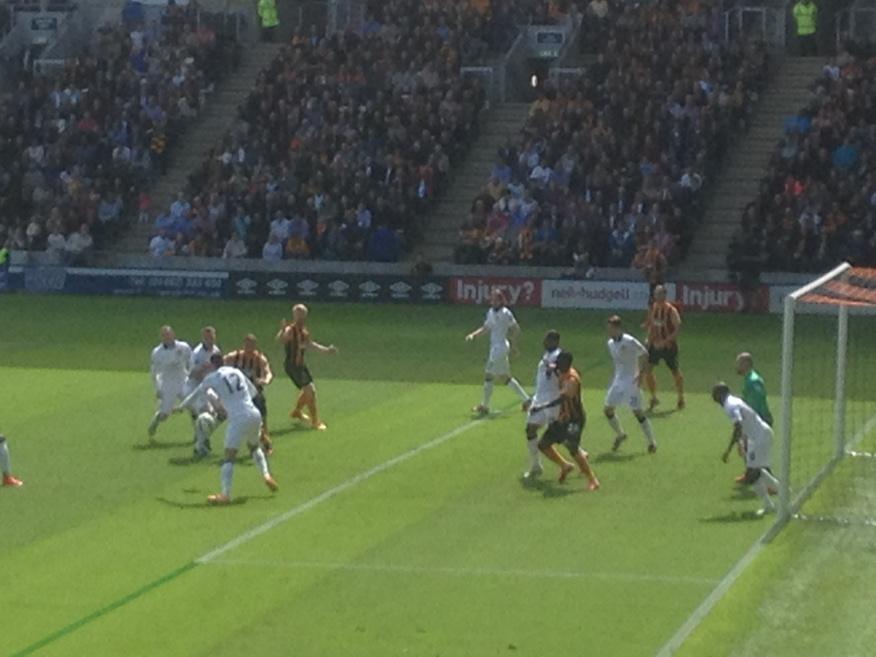 United defend a…nah, this photograph makes the game look far more interesting than what it was. The photo has been put up purely to boost this blog post's profile in social media and for no other reason. The income generated will boost the coffers in my campaign for world domination; a kitty that presently has £5.27, a pack of king size rizlas and half an ounce of… rolling baccy, you rascal.

The game was terrible. It was so bad that when a lad about five yards away from me lit up a cigarette, I looked out for him to make sure he wasn't being clocked by the orange coated jobsworths that were running up and down the stairs. It was far more interesting than anything that was happening on the pitch. The most memorable moment from the Hull City fans, aka 'The Tigers', was when they started roaring (ahem) their support for their side, around the 60 minute mark. The noise came out of nowhere, leading us to believe that Newcastle United must have conceded a goal. Like a lot of stadium rumours, this turned out to be unfounded. United fans made some noise too, having picked up on the George Best song to the tune of Spirit in the Sky, which was very funny when I first heard it.
United. pic.twitter.com/eZXUn410rZ

— Ste A. (@sarm0161) May 24, 2015
Meanwhile, on the pitch, Hull had two goals ruled out for offside early in the game, which I was told by text were correct calls. Marouane Fellaini was sent off for a challenge of such staggering stupidity that it made Paddy McNair's challenge on Darren Fletcher in the WBA match look like a shrewdly calculated foul, (it wasn't). Even with this one man advantage, Hull never really looked like scoring and it's for that reason, never mind what happened at St James Park, that they have gone down. They were comfortably the worst side I saw at Old Trafford this season and it gives me no pleasure saying that. I have no dislike of Hull City or the fans of the club.
Crying shame with Falcao. Seemed a genuinely nice guy & undoubtedly an awesome talent before the injury. Some things not meant to be. #mufc — John Ludden (@JOHNLUDDS) May 24, 2015
United's form has been such that out of the last available eighteen points, they have picked up five and still finished six points clear of the nearest side, Tottenham Hotspur. That's a sign of the mediocrity that is bubbling under the Champions League places. Dropping thirteen points at this stage of the season would normally be fatal to achieving United's initial aims at the start of the season, but United have got away with it.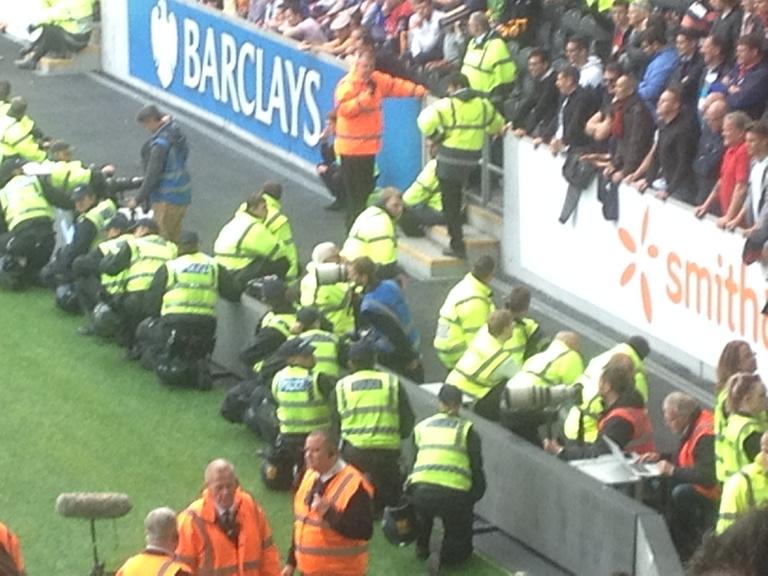 "Were going on the pitch…"
This achievement has undoubtedly been helped by Liverpool's diabolical form after United's win at Anfield in March. Liverpool's slump was compounded at Steve Gerrard's swansong at Stoke City. This game ended up with the home side scoring with such abandon, that we could have done with them at the crease against the Kiwis at Lords. This is a time where United fans have to show our humane side to stop another man losing his job in this time of austerity. For this reason alone, we must all get well behind the 'Rodgers Must Stay' campaign immediately, as I believe his job is in serious jeopardy (ah, so that's why Sam Allardyce has walked out of West ham, silly me).
Man utd … LOL

— Mario Balotelli (@FinallyMario) September 21, 2014
Mario Balotelli of Liverpool's reaction to United's loss at Leicester last September. This is the third time I have now highlighted it in the blog and I make no apology for it. This, like Charles Dickens Great Expectations, is worth reading over and over again
A season that saw United knocked out of the League Cup before September and a season where United contrived to blow a 3-1 lead against a feisty pub side, to eventually lose 5-3. For me, the biggest loss this season has been Red Issue closing down their magazine; it has been a truly incredible season. On the plus side, we've seen United hilariously rob Arsenal in their own back yard, outclass Liverpool at Anfield and give their best derby performance in three years against City. It was a cold and disillusioned winter at Old Trafford. The tedium of some of the football played took us back to the era of Dave Sexton. Ultimately Louis van Gaal was given a short term objective of getting United back in the top four and he has done that. The entertainment will hopefully come later, this season has been all about pragmatics and we knew that before it kicked off. The eternally clueless will say that it's a sign of how far United have fallen that we're settling for fourth. Most Reds know that Rome wasn't built in a day and after the debacle of the 2013/14 season, there was never going to be a quick fix.
For 2015/16, United are where they belong – back in Europe. If you would have said to me in the Summer of 2013 that United fans would be happy with fourth come the summer of 2015, we would have looked at you like you needed help. After last season's seventh place, fourth is an obvious improvement. I'm not too convinced United will win the league next season, but I feel a hell of a lot more confident than I did twelve months ago. Whilst it's not to be celebrated in the embarrassing way Arsenal that did a couple of years at St James's Park, it's definitely something to be happy about and to give some enthusiasm for next season. Next season, ah, next season…
Have a great Summer.