The footballing silly season has already commenced. Constant speculation about David de Gea's long term position at Old Trafford (clue, there isn't one), Jake Livermore of Hull Tigers has tested positive for cocaine and this morning, the Daily Star had a front page lead about a player who had been keeping his teammate's wife company. But none of that could beat yesterday's drama.

This is a moment where rivalries are transcended, a moment where the football family come together to pay tribute to a legend. Steven Gerrard's passing (particularly to his own goalkeeper) has been the source of many tears, and it's with great sincerity that I send my condolences to our friends at Anfield at this testing time… Oh hang on, word has just got to me through my earpiece that Gerrard is alive and and well. Well, thank fuck for that. Such was the recent coverage that I thought he must have died. Tremendous scenes Brian.
When you've won 3 PL Titles, 4 FA Cups & 2 League Cups but nobody gives a sh*t you're leaving to the MLS as well… pic.twitter.com/7KbmvJODgu

— The FOOTBALL Bible (@TFBible_) May 16, 2015
The hilarious press conference that Gerrard gave the other day was of such magnitude that it dwarfed the historical context of Jesus Christ's Last Supper, which brought the league title race of Anno Domini 33 to a close at Easter (this by the way is why so many football pundits think Easter is instrumental in the league title race). So Gerrard is, like Jesus Christ, resurrected. We can rejoice that this iconic 'one club' man says farewell to his Anfield flock before he…er…goes to play for another club. Anybody who has ever seen the film or read the book, The Leaving Of Liverpool, will know that it is a classic tear jerker. However after what I saw at Anfield yesterday, the story can be torn up and completely re-written. Gerrard, a very good midfielder, was sent off (no, not in that way you cynic) with a fanfare that Liberace would've thought excessive. The only thing missing was Elton John on the pitch with his grand piano at full time, singing Title In The Bin, his latest re-write of Candle In The Wind ("Goodbye Stevie G…")
POLL RESULT: You voted Paul Scholes as the Premier League's greatest ever midfielder. Thanks for taking part! #SSNHQ pic.twitter.com/Mj5noFhHqU

— Sky Sports News HQ (@SkySportsNewsHQ) May 16, 2015
On this day, of all days, SKY Sports announce this. How could they do such a treacherous thing?
Liverpool's loss to Crystal Palace in Steve Gerrard's testimonial (it was, wasn't it?) meant that United are now mathematically sure to finish in the top four this season. City's win at Swansea in the early afternoon kick off meant that the highest that United could finish was third. If I was taking a harsh look at this game, then for my money, United have blown a good chance of a convincing win against a quality side. While Arsenal started well, a bit like City did a few weeks ago at Old Trafford, United soon got a grip on the game and should have been well in front come the half time whistle. As it came, United had to settle for a one goal lead with a brilliant finish from Ander Herrera after some great work from Ashley Young, a player who is clearly playing with a lot of confidence at the moment.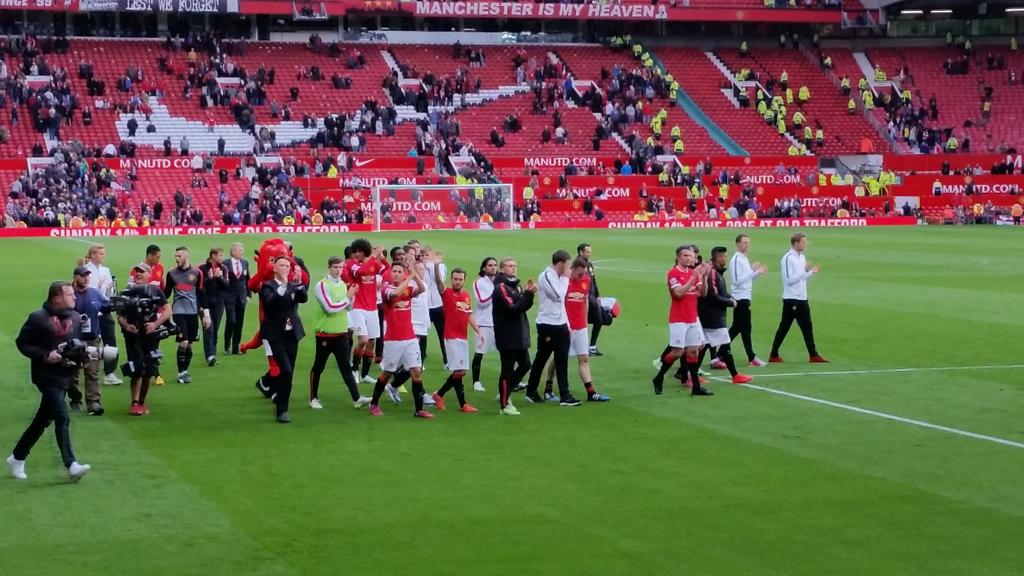 Players end of season lap of honour in front of the Stretford End (photo courtesy of Neil Meehan)
Arsenal were their usual selves with the ball. Skilful and comfortable in possession but against a well marshalled defence like United's today, they never looked like scoring. That all changed when Louis van Gaal, for some mystifying reason, took Marcos Rojo off in the 73rd minute for Tyler Blackett. The same sequence of substitutions saw Vitor Valdes replace the injured David de Gea and Theo Walcott come on for Héctor Bellerín. I would've been a lot happier with Rojo being up against Walcott rather than Blackett. Suddenly, Arsenal started to look dangerous and it was no great surprise in the 82nd minute when Walcott forced Blackett into scoring an own goal. Yes, it was jammy, and yes, it was bloody annoying but after that substitution, it had been coming. After this, I thought if any team was going to win this game, it would've been Arsenal.
Robin van Persie came on for Radamel Falcao in the 60th minute. Falcao played with plenty of effort, something he has never been found wanting for but, yet again, judging by the amount of times he landed on his arse, he looked like a player who had been kitted out with the wrong boots. Van Persie, predictably, received abuse from Arsenal fans, who displayed their usual lamentable lack of imagination in their insults towards him. They also came up with a very perceptive chant of "You're gonna win fack all" towards the end of the match. The fact that Chelsea are both League Champions and League Cup Champions (© Glen Johnson) and United have been knocked out of the FA Cup by Arsenal themselves means that 'tis indeed true. United are going to win fuck all, but not to worry, a cup would've been nice this season. To me, speaking from an old school perspective, it would've been preferable to fourth place but if I had been offered this at the start of the season, I and I believe the vast majority of Reds, would've taken it.
That Old Trafford '02 banner at Arsenal is a bit weird. As is their whole perceived rivalry with United. As long as they're happy, I suppose — McMmns (@Danny_McMoomins) April 26, 2015