Marouane Fellaini has now played ten times for United and he has impressed on precisely none of those appearances. Some players, like Roy Keane, Wayne Rooney and Robin Van Persie make an immediate impact, others, like Gary Pallister, Andy Cole and David De Gea need a so called bedding in period. I really hope that Fellaini is of the latter. The harsh truth is though Fellaini needs to start asserting whatever midfield authority he has on games like the one United played against Cardiff. At the moment, he looks like a rabbit in headlights. It's one thing being outplayed by Yaya Toure soon after you've signed for a new club, another thing altogether to be anonymous in virtually every other match since. The most damning thing about United's midfield options however is that I would still pick a dazzled and dazed Fellaini over Tom Cleverley and Anderson.
Tom Cleverley and Danny Welbeck both went out on loan to Wigan Athletic and Sunderland respectively in season 2010/2011. They made a positive impact and the more I see of them in United shirts, the more I think they found their true level at those clubs. It gives me no pleasure saying that, particularly about Welbeck who is an all round popular lad, but they do not have a long term future at United. They are simply not good enough. Circumstances may have worked against Cleverley, he's not been the same since he was 'done' by that carrot munching carthorse Kevin Davies, at Bolton in September 2011. Welbeck, who has had some great moments in a United shirt cannot be trusted as a centre forward. His finishing is atrocious. At Cardiff, with ten minutes to go and clean through, he put the ball high over the bar when he should've finished the match off or at the very least, forced a save off David Marshall.
United banner at Cardiff yesterday (photo courtesy of Percy Toplis)
On eight minutes, Wayne Rooney was obstructed by Jordon Mutch as he was chasing the ball down the left flank. Rooney, as he has done so many times before, had a sight of red mist and lashed out at Mutch. Referee Neil Swarbrick decided that Rooney had earned a yellow card for the foul. This was a decision that was not concurred with by Graeme Souness, a man well remembered for his clean playing style and Martin Tyler, a man whom I'm convinced has never set foot on a football pitch. Seven minutes after Rooney had been booked for kicking Jordon Mutch, much to Martin Tyler's obvious chagrin, Rooney scored for United via a deflection off Gary Medel.
Frazier Campbell equalised for Cardiff on 32 minutes after Peter Whittingham threaded a ball through the middle of the pitch onto Jordon Mutch. Where United's midfield was for that goal, God knows. What was refreshing about that goal was that there was none of this phoney subdued/none celebration that former players feel obliged to display after they score against their former clubs.
Sir Alex Ferguson with Vincent Tan, a man who's protected and respected Cardiff City's traditions and identity with a similar diligence to Robert Maxwell 
United regained the lead on 45 minutes when Patrice Evra scored yet another header, ghosting in on the near post to a Wayne Rooney corner. The two most incredible things about that goal is how a lad of 5ft 9in can consistently score headed goals like Evra does and also for the second match in succession, a Wayne Rooney corner had lead to a United goal. In the words of Red Issue's Nooruddean Choudry, The goal lead to "perfectly harmonious baritone boos ringing around the Cardiff City stadium" as the half time whistle blew.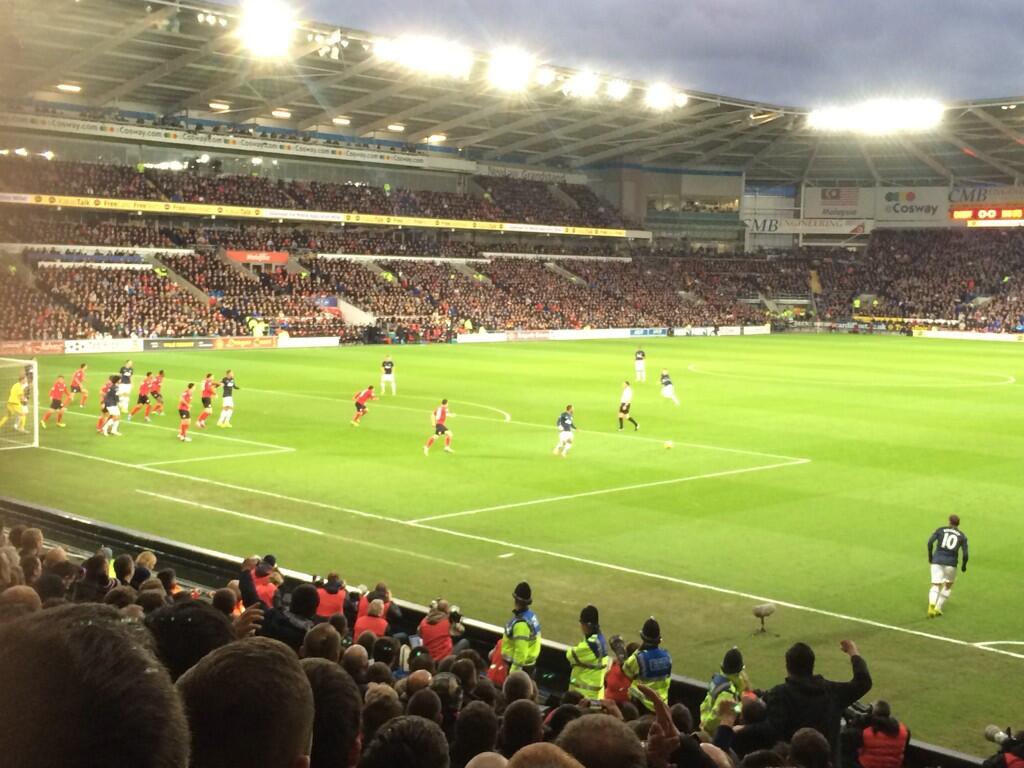 Wayne Rooney about to cross the ball in the first half (photo courtesy of Daniel Burdett)
Chris Smalling gave away a stupid free kick in the 89th minute. When Peter Whittingham crossed the ball, United had cleared the danger but referee Neil Swarbrick decided the free kick should be taken again after Gary Medel slapped Marouane Fellaini in the face. Why Swarbrick decided that Cardiff should be allowed to retake a fee kick that had already been cleared when one of their players had fouled a United player whilst that free kick was being taken, I'd love to know. The retaken free kick lead to a deserved equaliser for Cardiff from their South Korean midfielder Kim Bo-kyung. Seconds after that, Wayne Rooney found himself one on one with Cardiff keeper David Marshall. For reasons known only to himself, Rooney tried to lay the ball off to Danny Welbeck rather than round Marshall and put the ball into the back of the net. It would've been cruel on Cardiff if United had won the game from there, but football's never been a fair game anyway.
SKY commentator Martin Tyler, who by this point had gone a full five minutes without mentioning the Rooney incident with Jordon Mutch in the first half, remarked that it was poetic justice that Rooney had squandered the chance. Tyler, a man as familiar with poetry as Bob Dylan is to football, wouldn't know poetry if it hit him in the face, if it was in his briefcase, if he was holding an ace or when he's eventually put in his place.
During yesterdays match, news emerged of Nobby Stiles being diagnosed with prostrate cancer and this morning came the news of the passing of Munich air crash survivor, Bill Foulkes. I don't need to make any comment on Foulkes contribution to United's history, anybody reading this should already know that anyway but I will say from personal experience, he was an absolute gentleman. When I used to work swag on Warwick Road, there was no mistaking Bill Foulkes walking towards the ground and passing by and occasionally taking a shirt or scarf. As pissed off as I was with the performance from United and as clichéd as this may now sound, the news about both Stiles and Foulkes put everything into perspective. Goodnight and God bless Bill