I sometimes think that the London press faint in orgasmic hypnosis to the words of Arsene Wenger. If you believe the press, you could easily imagine Wenger at nightime sitting serenely in his personal oak panelled library at his house in Totteridge, digesting Richard Feynman's thesis on Quantum Physics with a background ambience of Bach's Brandenburg Concerto No.5, whilst sagely sipping a glass of 2006 Bourgogne Chardonnay. Wenger is calm personified, an economics graduate from Strasbourg University and a man who invented modern urbanity. He also, for an educated man, talks an awful lot of bollocks.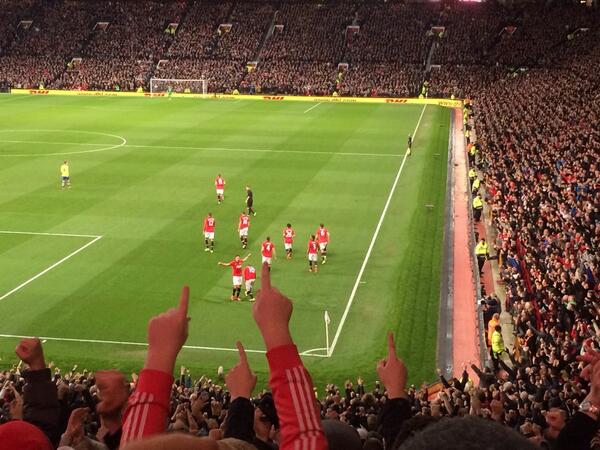 Celebrations in the J Stand greet Robin Van Persie's 27th minute winner (photo courtesy of Daniel Burdett)
As recently as January last year, Wenger looked tired and gaunt after a United win at Ashburton Grove. Most United fans, myself included, were almost feeling sorry for him. He was a forlorn shadow of the man who, quite brilliantly, went head to head with Sir Alex Ferguson in his first seven years as Arsenal manager. We had forgotten just what a one eyed prick he can be. Now that Sir Alex has gone and coupled with Arsenal's very good start to the season combined with the signing of Mesut Ozil, Wenger has recently been ever so subtly gobbing off again in the media.
According to SKY Sports yesterday, Wenger said the likes of Aaron Ramsey, Jack Wilshere, Theo Walcott, Alex Oxlade-Chamberlain, Kieran Gibbs and Wojciech Szczesny is "as successful as Manchester United's group of players were (class of '92)". What that group of players have actually achieved to substantiate Wenger's outlandish claim has yet to be ascertained.
In Saturday's Daily Mirror, Wenger also said of Robin Van Persie "that for me he is an Arsenal player". Wenger may be right, maybe Van Persie will be at heart an Arsenal man in the same way that Frank Stapleton was and remains. One thing I know for a fact is that when Stapleton left Arsenal for United in 1981, he was never subjected to anything like the vitriol that Robin Van Persie endures from Arsenal fans now. It must really hurt Arsenal fans that not only has Van Persie won the title in his first season at Old Trafford (something he failed to do in nine years as a first team regular at Arsenal), but also on the three occasions United have played Arsenal since his transfer, he's scored in every game. To paraphrase Allan Roberts and Doris Fisher, maybe it's a case of Van Persie "always hurting the one he loves". Long may it continue.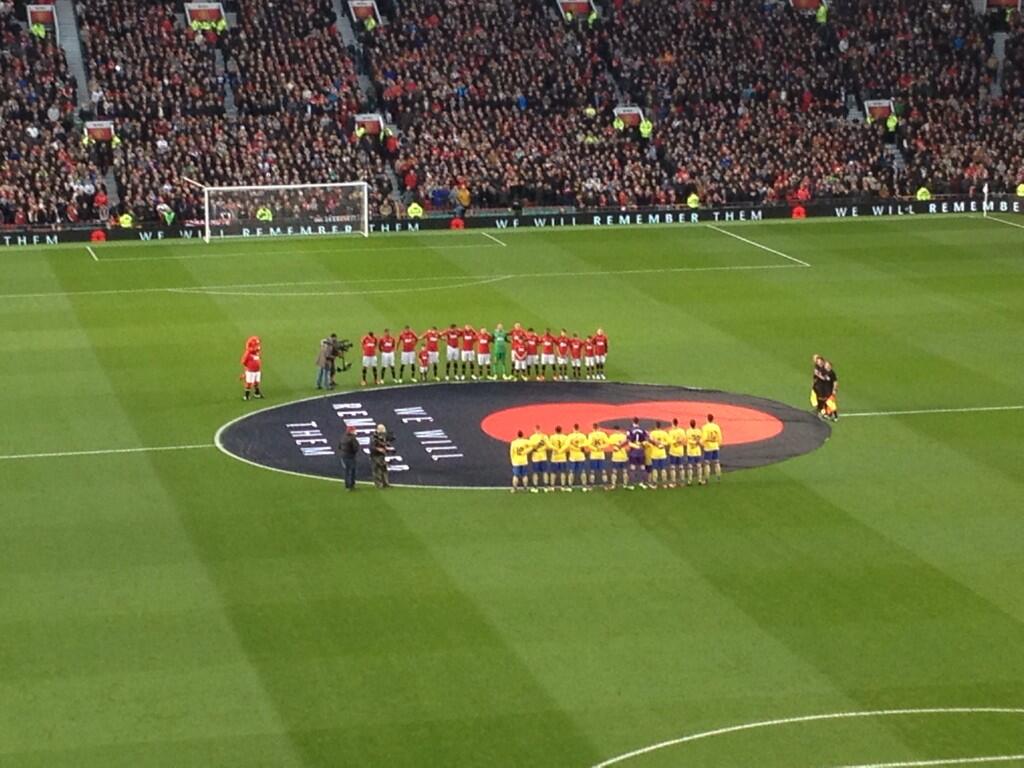 Players of both teams pay respects to the soldiers who fought in the wars before kick off (photo courtesy of Stuart Gwilliam)
This was a tense match today, Arsenal have in recent weeks, played well. After starting the season with a daft home defeat to Aston Villa, they've been grinding out good results, most recently against Liverpool and more impressively against a brilliant Borussia Dortmund side in the Westfalenstadion on Wednesday night. On 27 minutes, Wayne Rooney forced Thomas Vermaelen into conceding a corner. Due to the fact that United don't have any flankers who can take a corner, Rooney himself took the kick and found Robin Van Persie, who brilliantly headed into the far side roof of Wojciech Szczesny's Scoreboard End net. There were other chances for United; Rooney sent a good chance wide halfway through the second half and Chris Smalling missed a great chance with ten minutes to go, which would've calmed a lot of nerves.
Arsenal had, as is their wont, plenty of possession. As per usual they played pretty, so called tiki taka football but unlike Barcelona, the best practitioners of that style of football, Arsenal don't have Lionel Messi or Andres Iniesta. They instead have Nicklas Bendtner and crucially, in regards to today's result, they no longer have Robin Van Persie. Whilst to me, Phil Jones was United's man of the match, Van Persie was the fulcrum. If Van Persie would've been in the yellow of Arsenal today, I believe Arsenal would've won. He wasn't though, he was in the red of United and he tipped the balance in United's way in every conceivable way. As for Arsenal fans, they can now go back into their shells for the next couple of weeks, organising swingers parties in the Islington townhouses with soundtracked by the debut LP of The Lighthouse Family and an overwhelming smell of garlic bread and humous.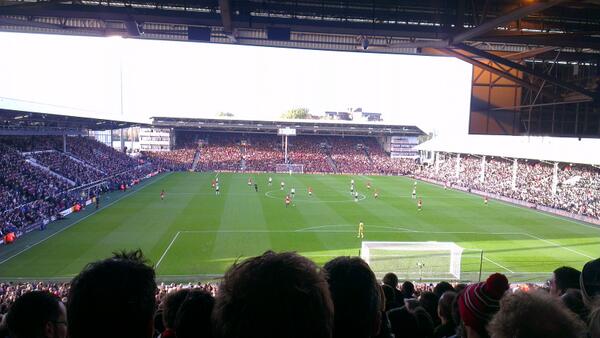 Putney End of Craven Cottage during last Saturday's match at Fulham (photo courtesy of Lee Thomas)
Harold Wilson said in 1964 that a week is a long time in politics. He could easily have been talking about football as well. An Arsenal win today would've seen them go eleven points clear of United and would also have seen the obituaries being written about the season already. I'm not daft enough to say that United are going to win the title but looking around me, it's definitely there for the taking. There isn't an outstanding side in the league. City today, for the fourth successive season, lost at Sunderland, Chelsea yesterday drew at home to West Bromwich Albion thanks to a penalty award that had Ashley Young thinking was out of order and Tottenham lost at home today to New'astle.
United, a side that that many thought were in crisis three weeks ago have now not lost since September 28th. United have not exactly been playing brilliantly but then again, how many brilliant performances can you remember from last season? Last Saturday, United did their classic trick of running rampant early in the game before taking the foot off the pedal for the rest of it. With a 3-0 lead after 22 minutes, United let Fulham back in after half time and if it wasn't for the crossbar, it could've been a very twitchy last five minutes for reds down by the Thames.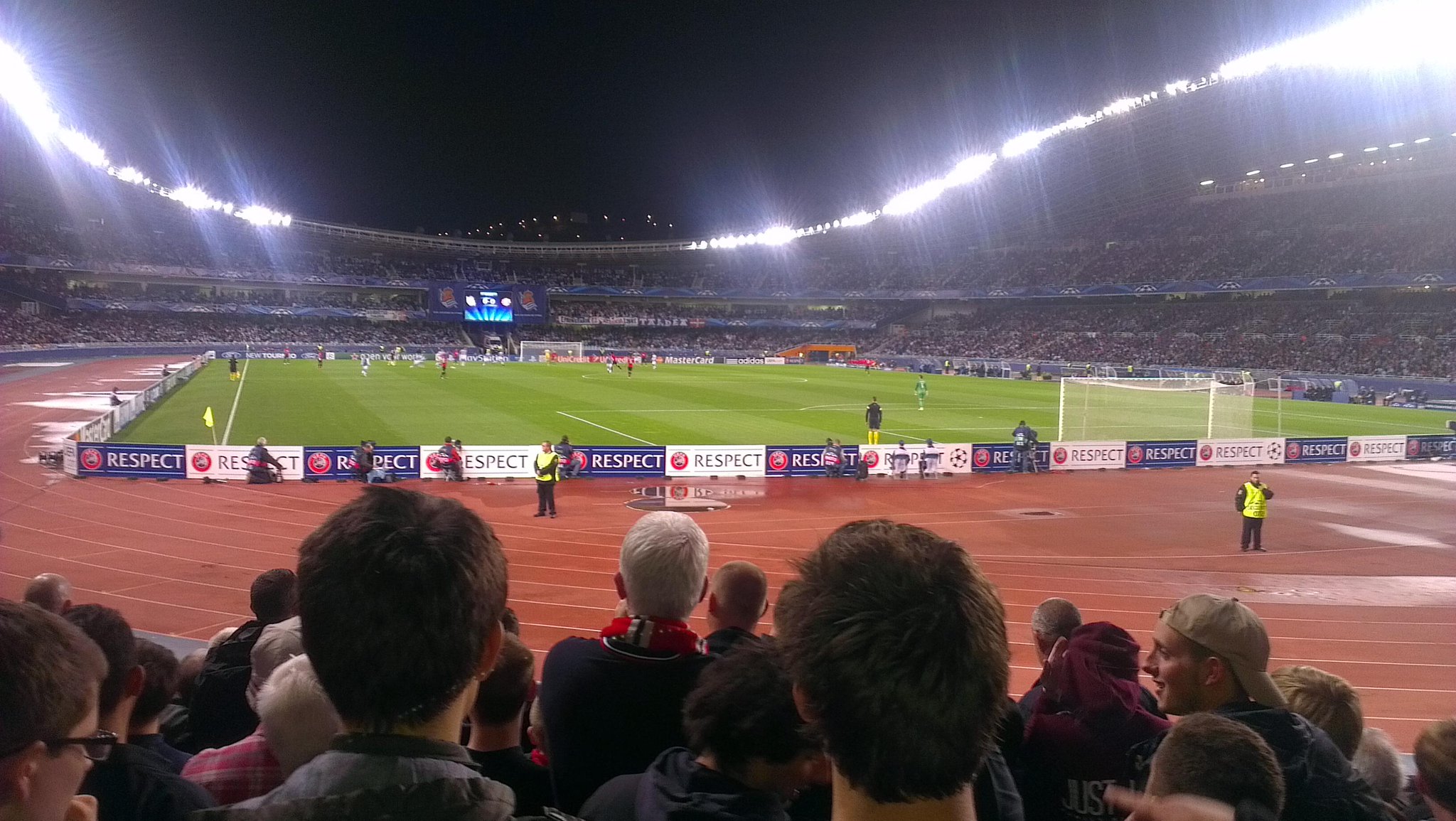 The view for €50.00 in the Anoeta Stadium on Wednesday night (photo courtesy of Lee Thomas)
On Tuesday, United drew 0-0 against probably the worst side they've come across this season in what was by the majority of accounts, one of the best Euro away trips ever taken by travelling reds. With all the hullabaloo centred over Ashley Young's antics in winning the penalty, they shadowed the fact that the referee turned down two other dead cert penaties for United along with Robin Van Persie hitting the post with an empty net gaping in front of him and Javier Hernandez being the victim of a bobbling ball as he was about to score for United. I suppose a draw away in Europe can never really be considered a bad result (unless of course you HAVE to win) but United should've beaten the very hospitable Basque home side on Tuesday night. Looking at Shaktar Donestk and Bayer Leverkusen, there shouldn't be too much problem for United getting through to the knookout stage of the European cup. There seems to be some concern over United finishing top of the group, the theory being that United will get an easier draw in the last sixteen should that happen. Last season, United finished top of the group at a canter and ended up getting drawn against Real Madrid; that was a doddle wasn't it?