According to the fourth estate, the early part of Summer saw Manchester United rocked by Harry Kane staying at Tottenham Hotspur. We were shattered by David de Gea's imminent departure (he hasn't gone yet), snubbed by Paul Pogba and had more links than Houdini's chains. United have been preparing, readying or launching bids for Uncle Tom Cobley, whilst at the same time getting rid of Paul Scholes's replacement, Tom Cleverley… (having written that sentence, I suddenly had a choking fit).
In early July, Nani left United for Fenerbahçe. The Lisboan arrived in a huge fanfare of expectation in the Summer of 2007; some people claimed that he was better than Cristiano Ronaldo… (oh Christ, I'm off again). Nani looked like Michael Jackson but played football like Janet Jackson. A player of undoubted skill occasionally, he will always be remembered by me as a winger who took worse corners than Mads Timm and whose crosses would've been comfortably dealt with by a blindfolded Jim Leighton. To use the words of Brian Clough, he floated like a butterfly and he stung like one.
A seminal moment from Nani at the Estádio do Sport Lisboa e Benfica da Luz in 2010. Cristiano Ronaldo turned Gerard Pique inside out, his exquisite goalbound shot from was gliding over Iker Casillas's head and into the net. Nani decided to add the finishing touch, from an offside position. Ronaldo's reaction was priceless
Another player joining Nani in Kadiköy is Robin van Persie, who has left United after three seasons. He came to Old Trafford having turned down a better offer from Manchester City (quelle surprise), and listened "to the little boy inside of me". He was instrumental in United winning the title in 2013. When he first came to Old Trafford, he resembled a Rolls Royce, as United finished the season to the soundtrack of The Courteeners. By the end of last season he looked more like a Reliant Robin, without the reliability. When all's said and done, I'm grateful for his pivotal role in United's most recent title win. Moments like the one he provided at the Stade de Beswique in December 2012, will live long in the memory.
Gratitude to Robin van Persie for this glorious moment at the Commonwealth Stadium. Watch the entire video and you get the added bonus of a blue with a truly amazing hat, falling flat on his arse as he approaches Rio Ferdinand to scream abuse
After reading enough bullshit to fertilise the entire state of Texas, my big question is, did you survive it all? (I only just did.) It makes me grateful for the legally dubious transfer window's existence. Because of it, we're spared this bollocks most of the season. The relief however is that we're now in the final throes of the transfer window. In a couple of weeks, Jim White will once again hyperventilate for DEADLINE DAY on SKY Sports News; the garish yellow tie he always wears will turn brown and then, at last, we'll be out of the woods 'til January.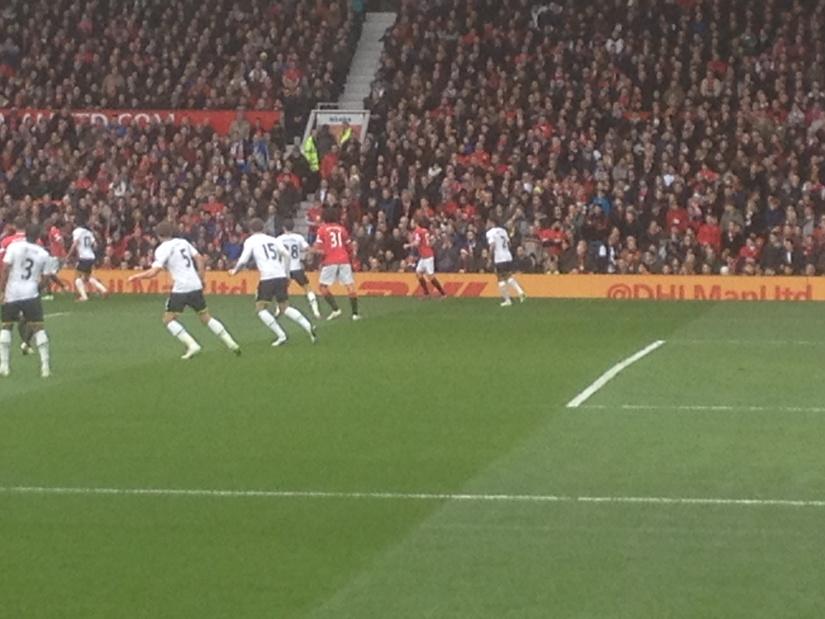 United against Tottenham last March. The real start of United's resurgence last season after a plethora of dull mediocrity. We'll find out soon enough if it was a false dawn
Perhaps the nadir of the close season transfer speculation came when a Spanish journalist, searching for news on David de Gea spent hours camped outside a Carrington training ground, only problem being, it was Sale Sharks training ground, which is next door to United's. In desperation, according to Andy Mitten, he took to quoting any United staff member he could get hold of there, including canteen staff. Meanwhile, over in Madrid, to the surprise of only the most gullible, Sergio Ramos used United as leverage to get himself a better contract at the Bernabéu. Having witnessed Barca's Dani Alves pull exactly the same stunt six weeks earlier, it leaves me wondering if the Summer transfer junkies will ever learn.
Q: "I am a journalist from Kurdistan. Can you tell me what is happening with Di Maria?" LVG: "He is not going to Kurdistan."

— Paul Hirst (@hirstclass) July 30, 2015
The middle of July suddenly saw things really happening. In their shiny shoes, Schweinsteiger and Schneiderlin's arrival for sure gave sugar to Reds. Nobody knows who will be the better signing. We all know Bastian Schweinsteiger's quality. He's 30 and in this day and age, with the way footballers look after themselves, there's no reason why United can't get three to four good years out of him. Morgan Schneiderlin has been a stalwart at Southampton since he signed for them in 2008, helping them from the second tier to become a side that came two points away from qualifying for Europe last season. The two occasions United played Southampton last season, he was, for my money, the man of the match. These two signings will place Marouane Fellaini's long term future into doubt. The big Belgian did relatively well last season. He resembled the nuisance that we remember him being at Everton and his strength in the air was used properly. He brilliantly got up Jack Wilshere's nose at Arsenal and gave a far better showing against Yaya Toure than during the previous season's embarrassment. However when all's said and done, the last day of the season and that tackle on Paul McShane (wasn't he in Hi-de-Hi!?) shows that he will never be a United player. If he was any more limited, he'd be quoted on the Stock Exchange.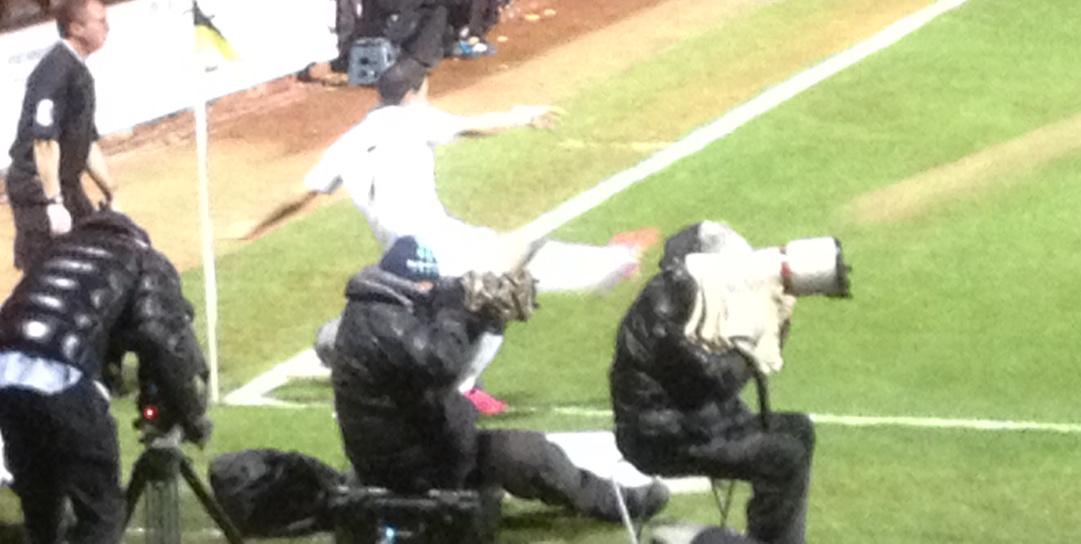 Angel di Maria taking a corner at the Abbey Stadium in January. I'll be surprised if he takes another one for United
As any Liverpool fan will ruefully tell you, Brendan Rodgers spent the best part of eighteen months trying to lure Memphis Depay from PSV Eindhoven, only for United to nip in there towards the end of last season to buy him from the Dutch champions. Matteo Darmian also came to M16 from Torino, a skilful attacking full back, reminiscent of Patrice Evra. He will be a direct replacement for Rafael, a player Louis van Gaal clearly has no time for.
"No seriously, I said £49m as a joke and they paid it" pic.twitter.com/KNB0Wvpjz7

— Deluded Brendan (@DeludedBrendan) July 30, 2015
Our nearest geographical rivals spent £49m on signing a boyhood United fan who bears an uncanny resemblance to Arnold from Different Strokes, a few days after his Mam had phoned him in sick at Melwood. They then signed Fabian Delph from Aston Villa in a "will he, won't he" saga to rival birthday cake-gate from May 2014. These are quality signings that Manchester City have made, be in no doubt about that. They are not to satisfy any FFP home grown rules. Rules that incidentally were drawn up specifically to sabotage City's wholly organic and purely Mancunian growth, by a cabal that included (amongst others) Michel Platini, Sir Alex Ferguson and the IMF. You read it here first. Truth be told, I have to agree with our Blue cousins here. If you manage to discount the Busby Babes, Red Star Belgrade side of the late 80s, the class of '92, the Ajax side of the mid 90s and a few others that I can't recall at the moment, then I'm sure you'll agree that City created the best youth team ever in the whole history of football in 1986.
Meanwhile, over the other end of the M62, our favourite enemies and main rivals have been quietly and prudently going about spending the Raheem Sterling money. Last year, Liverpool did what can only be described as a plunder on Southampton. It was ultimately a success too as they finished two points ahead of the Saints in the final league table to clinch the last Europa League spot off them. This Summer, to maintain that advantage, Liverpool have again taken another player from Southampton, Nathaniel Clyne, in a bargain £12.5m deal. Perhaps Liverpool's biggest coup of the Summer came when they won a fiercely contested battle with nobody, to snap up Christian Benteke from Aston Villa. A real snip at £32.5m.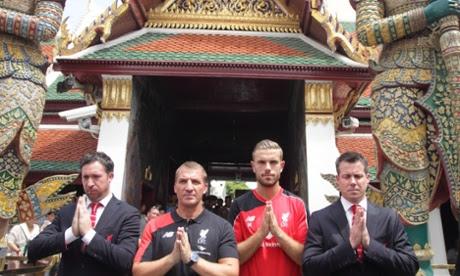 Liverpool reveal their transfer policy and hopes for the new season
Another moment of the close season which sends the press and social media into a frenzy is the release of the fixtures in the middle of June. What we learnt this year was that United have to play all sides in the Premier League, home and away (would you believe), at various points of the season. Once unveiled, there was all kinds of confidence flying about, particularly about the run-in. I had to agree when I saw them; it is easily the kindest run-in United have been granted in the last twelve months. The first fixture most Reds look for is when we play Liverpool and the greatest surprise is that it's a 5.30 kick off on a Saturday night. I can't believe the Bovril squad haven't objected to that one. Another away trip Reds were keenly looking at was Bournemouth. There was a groan of disappointment when we realised that we were taking our buckets and spades there in the middle of December. I reckon the South Coast will see its biggest invasion since October 1066, when Duke William II of Normandy brought his firm down to sort out Harry Godwinson's boys. (Proper naughty, claret everywhere.)
United fans celebrating the winning of the 19th league title at The Fernhurst in Blackburn in 2011. Hopefully it won't be too long before these celebrations are repeated
United may have reached saturation point in the States. Last Summer saw United play Real Madrid in front of 109,318 in the Michigan Big House (oddly enough, we have a well crowded big house in Manchester too). It was a different story this year, when United's fixture against the San Jose Earthquakes was moved from the California Memorial Stadium (capacity 62,467) to the Aveya Stadium (capacity 18,000). This was supposedly for "travel and logistical requirements". The distance between the respective stadia is 46 miles, give or take, the same distance from Old Trafford to Elland Road.
A few days after United found their way to San Jose, (try not thinking of that magnificent song, you can't, can you?), United played Barcelona in San Francisco at what the MUTV commentator called with great wit, the Theatre of Jeans. The performance from United against Barcelona (admittedly, sans Lionel Messi) was very encouraging. Against the European Champions, United looked fluent, confident on the ball and seemed to have an idea of how to attack. Four days later, United lost 2-0 to Paris St Germain in the Chicago Soldiers Field to relinquish our proud hold on the International Champions Cup. The defending for the two goals conceded (shown below) was comically inept,
Now that United's pre-season is complete, we're looking forward to the opening match against Tottenham, a club I've always had the utmost respect for and a match that I always look forward to. Spurs usually bring the most impressive away support to Old Trafford, certainly for noise and a good number too. It has historically always been an exciting fixture and as a first game to the season, it's a belter. It will certainly give United's new signings a great introduction to Old Trafford. It will also give us a good indication of how United will properly look next season.
Let's hope for another controversial moment like this. The sound of whinging Cockneys and apoplectic commentators was the sweetest harmony
Like the production of Austin Allegro, United having a Financial Director called Robin Launders, the common use of carbolic soap, motorcycle sidecars, nicking empty pop bottles from a shop's backyard and taking them back in for the 5p deposit, all these things eventually had to come to an end. So it comes to be with this blog. To paraphrase John Cleese, "this blog is no more. It has ceased to be. It's expired and gone to meet its maker. This is a late blog. It's a stiff, it rests in peace. It's rung down the curtain and joined the choir invisible. This is an ex-blog." Thanks to everybody who has read and enjoyed it since 2011. To all those who don't like it, I ask (a) what are you doing here now and (b) you've left it a bit late to start moaning, haven't you?
Ta-ra