The worst thing about the result yesterday is that nobody was really surprised. The front cover of the latest United We Stand fanzine labeled United as the unpredictables. I'm struggling to think of a more accurate cover which that fanzine has had in its near 25 year existence. United had so many crosses during the game as to be comparable as to the amount at Golgotha Calvary. While the deeply religious David Moyes won't be crucified on any of those crosses just yet by most match-going reds, it's only a matter of time before the mood changes dramatically, especially after this result. At full time, Moyes understandably had the exasperated demeanour of a man who couldn't figure out just what had gone wrong. Moyes said on Match of the day that "today was probably as bad as it gets". I hope for his sake that he's right as I've seen things a lot worse at Old Trafford, albeit many years ago. My memory tells me however, that things could be a lot worse
I'm not a big fan of statistics as a point of emphasis. I'm well aware that all kinds of disingenuity can be suggested by them, but I make an exception for the match yesterday. United should have annihilated Fulham. All the statistics say that, apart from the most important one, the final score. United had eighty one crosses and most of them were crap. United had 75% of the ball and for all that possession, Fulham looked good for holding out for a win after Steve Sidwell scored with Fulham's first attack in the 19th minute. This was partly down to the brilliance of Fulham keeper Maarten Stekelenburg, his save from Wayne Rooney in the 56th minute was particularly outstanding, as well as the abysmal final ball that United players were delivering. When Robin Van Persie equalised in the 78th minute from a Juan Mata cross, there was no sense of relief in the ground, more a sense of let's stop pissing about now and win the game.
Fulham appeared to have collapsed when Michael Carrick put United in front ninety seconds later. Now there was relief, we all expected, even in this unpredictable and turbulent season, for United to have seen this game out. This season, Fulham have been perennial canon fodder. They've been getting leathered by teams that are as nowhere near as good as United. There's one crucial difference though between United and those teams like Hull City and Sheffield United whom have both beaten Fulham recently and that is confidence. There's also a feeling that for David Moyes, in regards to tactics, he's damned if he does and damned if he doesn't. There has been understandable consternation at his tactic of having all hands to the pump when the opposition have a corner. People have accused him, sometimes correctly, of being too negative in his tactics. Yesterday United were if anything, too positive in their attacking intent. Conceding an equaliser in the penultimate minute of injury time through chasing a goal they didn't need, summed up the luck Moyes has had this season. It was ironically reminiscent of another suicidal United performance, when United did exactly the same against a side managed by (of all people) Moyes in April 2012 which in my opinion, cost United the title that season.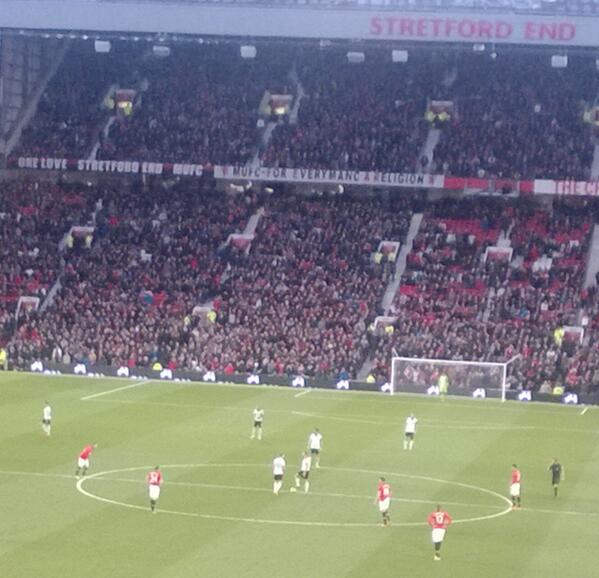 Southampton, Cardiff City, Swansea City, Everton and Sunderland have all scored crucial late goals against United this season that have effectively knocked United out of contention for three trophies by the middle of January. Barely two weeks into February, the late goal scored by Fulham yesterday could have a profound effect on United's hope of qualifying for the European Cup. At the time of writing, United are nine points adrift of Liverpool, who are in fourth place. Barring an unlikely trip for reds to Lisboa in May, United are in real danger of not playing in next seasons European Cup. Reds, like Arsenal fans, have taken for qualification for this competition for granted since the mid 1990s.
United now don't have a home game for five weeks. The next home game for United is against Liverpool on the 16th of March. Liverpool is always the biggest game of the season at Old Trafford, irrespective of league position. Now with United desperately embroiled in a fight for fourth place and providing United can stay in touch with the mickies, it will be the biggest United/Liverpool match since 2009. With that considered, what could happen in the next five weeks could leave things looking radically different to what they look like today. United have a very tricky match at Arsenal this Wednesday and a week on Saturday, another potentially awkward game against Crystal Palace at Selhurst Park. Last season, you could've gone to the bookies and backed United with some confidence of winning that game (even if the odds would've been short). Nowadays, only a fool would put serious money on United winning that match.
Some people think yesterdays result is a disaster. It's annoying, even infuriating but a disaster? This week, as in every year in this equivalent week, saw United as a football club in it's entirety commemorate the lives of the 21 people, who died in the crash at Munich Riem Airport on February the 6th 1958. That is a disaster, not a last minute equaliser. Try and remember that.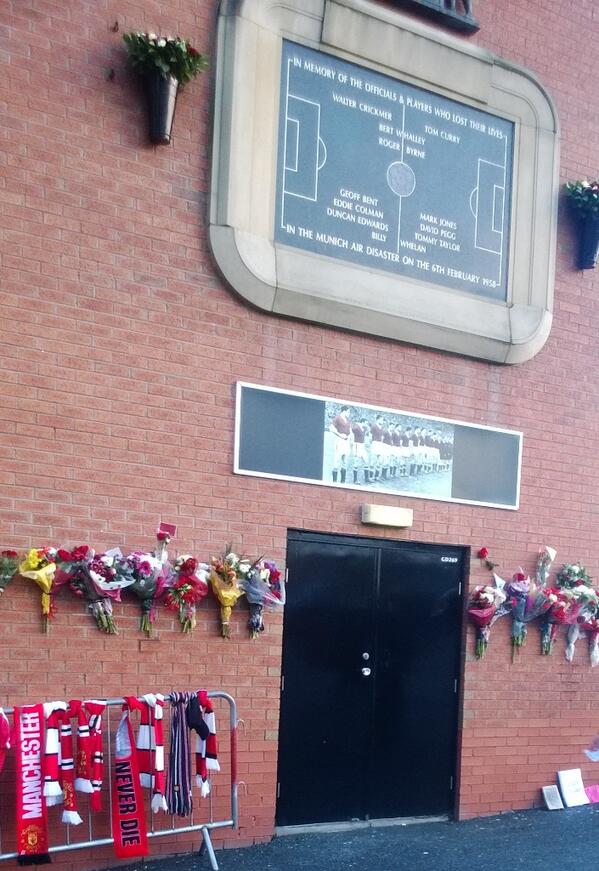 Remember the flowers of Manchester
Geoff Bent
Roger Byrne
Tom Cable
Alf Clarke 
Eddie Colman
Tom Curry
Walter Crickmer
Donnie Davies
Duncan Edwards
George Follows
Tom Jackson
Mark Jones
Archie Ledbrooke
Bela Miklos
David Pegg
Captain Kenneth Rayment
Henry Rose
Willie Satinoff
Frank Swift
Tommy Taylor
Eric Thompson
Bert Whalley
Liam Whelan