Near me in the Trevor Brooking stand at the Boleyn Ground, some reds were saying this was the worst they had ever seen United. As per usual when United are playing rubbish, people overstate just how bad it is. The performance today was in my opinion, not even the worst United showing in the last three weeks, never mind ever (that award definitely goes to Cambridge away). Allowing for that, this was bad. Yet another diabolical performance which ended up with United getting a scabby, scarcely deserved but much needed draw. For that reason, this could end up being a great result for United.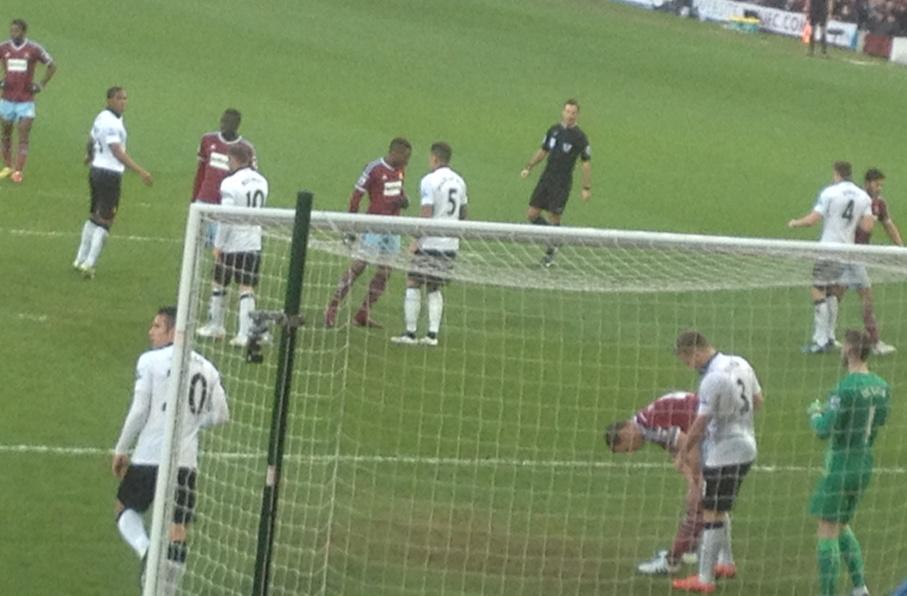 I'm convinced that United thought they were playing rugby in the first half, such was the reluctance to pass the ball forward. When Marouane Fellaini came on for Adnan Januzaj in the 70th minute, United resorted to another tactic that was more familiar with the oval ball game by punting the ball upfield, aiming for the big Belgian. As limited as we all know Fellaini to be, he at least made a nuisance of himself, which is more than virtually anybody else in a United shirt did today. Fellaini's push in the back on Kouyate in injury time helped set up Daley Blind for United's equaliser.
Terrible. Absolutely terrible. Clueless, unbalanced and inept.

— Mister Spleen (@MisterSpleen68) February 8, 2015
Luke Shaw, in my opinion probably United's best outfield player today, was sent off in stoppage time for a second booking. Robin van Persie did force a couple of saves from Adrian. Then we have Angel di Maria, oh dear di Maria. Some players can have bad days and bad games, they're  human and can't be brilliant every time. However di Maria looks half hearted when he's playing for United. That is unacceptable and I don't care whether he cost £60 or £60m. A bad game can be forgiven, playing as half hearted as he did, both today and in recent games is a lot harder to forgive. Virtually everybody knows that barring a change in fortune that would startle Aristotle, Radamel Falcao is leaving Old Trafford at the end of the season. Looking at di Maria recently, I have a feeling that he will also be getting a tram from Trafford Bar to Ringway Airport alongside Falcao, for a move back to a type of football where he can avoid big and ugly full backs not being very nice to him. It could be best for both parties on recent evidence.
MUFC vs Spurs Liverpool (Villa) City Chelsea. That run of 5 games we have starting mid March will decide if we finish top 4 or not I think.

— Barney @Red News (@barneyrednews) February 9, 2015
After the match and no doubt in the press over the next couple of days, we'll hear the usual shit about United scoring in Fergie time (sic) and how referees give United enough stoppage time to get the necessary goal. What probably won't be pointed out is that West Ham goalkeeper, Adrian, was booked for time-wasting by referee Mark Clattenburg in the 78th minute. Clattenburg had warned Adrian about that earlier in the second half. This gamesmanship is viewed as good professionalism when players get away with it. When they don't, it's the poor practice which cost a deserving side, in this case West Ham, the full three points. Perhaps these raging conspiracy theorists, who seem to genuinely think that referees give enough injury time for United to score, should bear this in mind (assuming they have one) next time their players are wasting time.
Adrian booked for timewasting. His third yellow of the season. — WHUFC Fans Corner (@WHUFCFansCorner) February 8, 2015
Yet again a full turnout of travelling reds were served up a tepid and worst of all, boring display from United. Can anybody reading this remember a brilliant United performance this season apart from the Boxing Day display against Newcastle? (and even that's a generous description). The two best wins have been against Liverpool and Arsenal, but beating those teams (particularly Liverpool), is always a great result. United robbed Arsenal in such a way, that reds were still laughing heartily as we came back into town that night. It was not a good performance. Louis van Gaal is having the luck with some results, a luck that was cruelly denied to David Moyes last season. Ernest Hemmingway once famously said that "you make your own luck", if United get back into the Champions League come the end of May, then it will be likely that van Gaal will be echoing that sentiment. Whatever happens though, United fans won't tolerate this kind of tedium over a long term basis, especially if it doesn't achieve the desired or its expected result.
All a bit joyless watching Manchester United these days. When they were losing, chasing a game, used to be most exciting sight in football.

— Daniel Taylor (@DTguardian) February 8, 2015
Liverpool drew yesterday and Arsenal very helpfully lost, so it's pretty much as we are for another weekend. West Ham have had a couple of decent results this season and with the terrible game from United today, this is under the circumstances, definitely a point gained. As an added bonus, I got a few texts as I was walking out of the ground telling me that Martin Tyler's response to the goal was akin to a man who had just been told that his accumulator had been ruined. Daley Blind burst the blowing bubble for Tyler, this gives me even more reason to be grateful to the Dutchman.
https://www.youtube.com/watch?v=aKgUDVaDTNM
Friday saw the 57th anniversary of the aircraft crash Munich-Riem airport, which eventually resulted in the deaths of twenty three men who were on that aircraft. As poor as todays game was and the United performance to boot, everybody who went to the game and played in it, got home tonight. The people listed below never did and when you think about it, a poor performance from United is a mere triviality in comparison.
Remember the Flowers of Manchester
Geoff Bent
Roger Byrne
Tom Cable
Alf Clarke
Eddie Colman
Tom Curry
Walter Crickmer
Donnie Davies
Duncan Edwards
George Follows
Tom Jackson
Mark Jones
Archie Ledbrooke
Bela Miklos
David Pegg
Captain Kenneth Rayment
Henry Rose
Willie Satinoff
Frank Swift
Tommy Taylor
Eric Thompson
Bert Whalley
Liam Whelan