The transfer window provided the opportunity for the eternally talentless Jim White, of SKY Sports News, giving us a helium-fueled night of tedium on what is understatedly called, DEADLINE DAY (please shout this out loud as you read it.) Rarely has a man with so little to say, said so much. On Friday night, he had even less to say than usual, but still said too much, too loudly with all the reserve and control of a five year who's been given carte blanche to drink Red Bull.
Staying cool: Jim White alongside Simon Thomas on DEADLINE DAY™ 2009
David Moyes said last Summer that he's "more than happy with what we've got. I'm very happy with my squad and the options we have". With Fabio da Silva and Wifried Zaha leaving to join Cardiff and Anderson's departure to the culinary paradise of Florence, Moyes looks to have had a change of heart. Fiorentina have given Anderson the squad number of 88; anybody who's ever heard a game of bingo being played will love the irony of that. In the meantime, with Anderson leaving Old Trafford, the carnivores' heaven that is the Bem Brasil restaurant on Great Ancoats Street is rumoured to be in crisis. It's incumbent on Reds to use this gift to our city as frequently as possible so they can absorb the loss of what must be their best customer*
The dubious legality of the transfer window (restraint of trade etc.) can be a debate for another day. What is beyond debate is that the transfer deadline has given licence to the most overhyped load of bollocks since the dreadful Raise The Titanic was issued in 1980. As daft as the whole concept of the transfer window/deadline is, it does give cause and rise to some hilariously ironic statements from people in the game who you would normally credit with more intelligence. The generally likeable Manuel Pellegrini said in response to United's purchase of Juan Mata that, "I am talking about fair play. If you allow that, maybe teams with a lot of money can buy important players from the teams fighting with them for the title". This from a man whose club bought Samir Nasri and Gael Clichy from Arsenal in the summer of 2011. This from the manager of a club who´ve been throwing money around like a pissed up Viv Nicholson over the last five and half years. Pellegrini himself was the manager of Real Madrid when they spent £80 million on Cristiano Ronaldo from United. I have no recollection of him complaining about the transfer system when that transaction went through.
Then we have Arsene Wenger sticking his impressive nose into something that, as per usual, has nothing to do with him. His response to United signing Mata was similar to Pellegrini. Wenger expressed surprise "because Juan Mata is a great player and they sell a great player to a direct opponent. I think if you want to respect the fairness for everybody exactly the same, that should not happen." This can't be the same Arsene Wenger who took Sol Campbell from Tottenham Hotspur in 2001 and paid United £750,000 for Mikaël Silvestre in 2008. (By the way, thank you Arsene, there really is one born every minute).
Tuesday night provided a small antidote to the difficulty United have recently experienced. On a night which at times, appeared to be an extension of Ole Gunnar Solskjaer's testimonial, a win was the most important thing. The return of Robin Van Persie went a long way to ensuring that win.
It only took six minutes for debutant Juan Mata to make an impact. Mata sprayed the ball out left and Patrice Evra did brilliantly to keep the ball in play. From the ensuing move, Ashley Young crossed for Antonio Valencia to hit the bar with a header, on the follow up, Van Persie forced a great save from David Marshall. Van Persie made no mistake on the rebound, heading in to give United the lead. Van Persie's clinical calm and skill, something Reds have almost taken for granted until his recent injury, was stark in that goal. There's a cruel, nagging feeling that of his recent understudies have had that chance, the ball would've gone flying over the bar.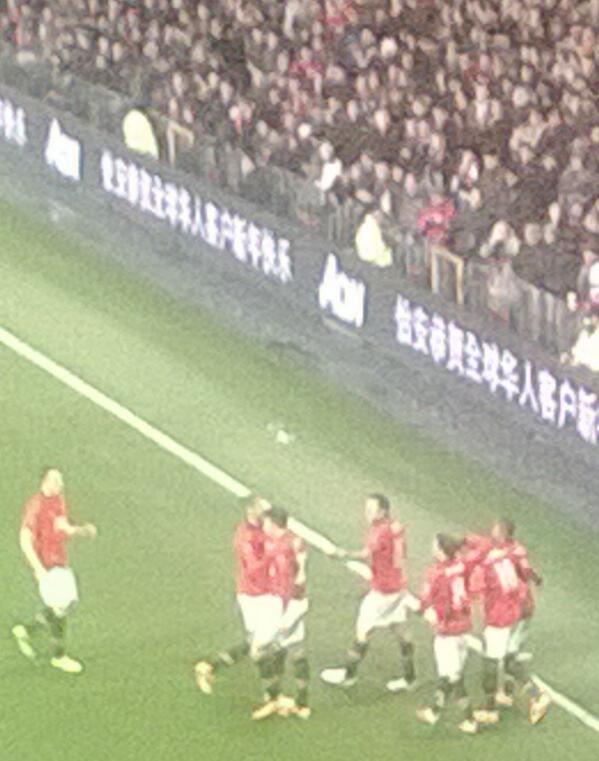 Ashley Young by the United Road touchline being congratulated by teammates for his excellent goal
The much maligned Ashley Young scored a belter on the hour to seal the win for United and edge the Reds ever closer to the 43 point threshold (approx.), which should see United safe from relegation.
Four minutes after Young's goal, Wayne Rooney came on for Van Persie. The timing of the return to the first team of both players, combined with the signing of Juan Mata, should give a great boost in the aim to finish in the top four.
After the welcome but low key win on Tuesday, United's erratic season carried on yesterday in much the same way that the rest of the season has. The unexpected is now very much expected, but nobody is quite sure what to expect. Stoke City are shit, they scored their first goal against the run of play but from that, they carried on to deservedly win the game. The usual hysterical reaction came abound at full time, from people who can't remember a mediocre season (fair enough) and other, older people who really should know better. Last season, United would've gone on to win the game after Robin Van Persie's equaliser. This season, United have equalised so many times from being behind, then gone on to lose the game that it's become a culture shock to a lot of people. For all that, it would be churlish to deny Stoke and their renunciant of a manager their day in the sun, after the horrible weather which somehow enhances Stokes grim surroundings. As well as the local men calling each other duck, Stoke is the only place in the world where they say "every cloud has a leaden lining". After Stoke City's victory against Liverpool on Boxing Day in December 2012, the local swagmen produced a scarf which sold in huge numbers. Their swag grafters are gonna be in for another bonanza after yesterday's result and the inevitable commemorative DVD will sell more copies locally than the recent effort from the city's favourite son, Port Vale supporting  Robbie Williams.
City are looking relentless and also, their ever so correctly self-deprecating yet simultaneously self-glorifying fans are gleefully enjoying the fact. Even the bitterest time-served and match-going City fans are exempt from what I'm about to say but like United, there's some risible excuses of City fans circulating at the moment. They're the kind of people whom you've known all your life and have never ever professed any interest in football whatsoever suddenly coming out as City fans. Years ago, they either had no interest in football or they claimed "there was too much money in the game". Now of course money is good, the future is blue. According to a lot of blues of my acquaintance, this defence of the title by United is embarrassing. It's the worst defence of a title they've ever known. This despite the fact that the defence Leeds United mustered in 1992/1993 was worse and Blackburn Rovers defence in 1995/1996 wasn't much better than Leeds United. The coup-de-grace for poor title defences though has to come from our blue cousins themselves. City´s longest serving manager Wilf Wild, managed City to the title in 1937. The following season, they got relegated. To this day, City are the only club to have managed that feat. Now that my friend, is what I call embarrassing.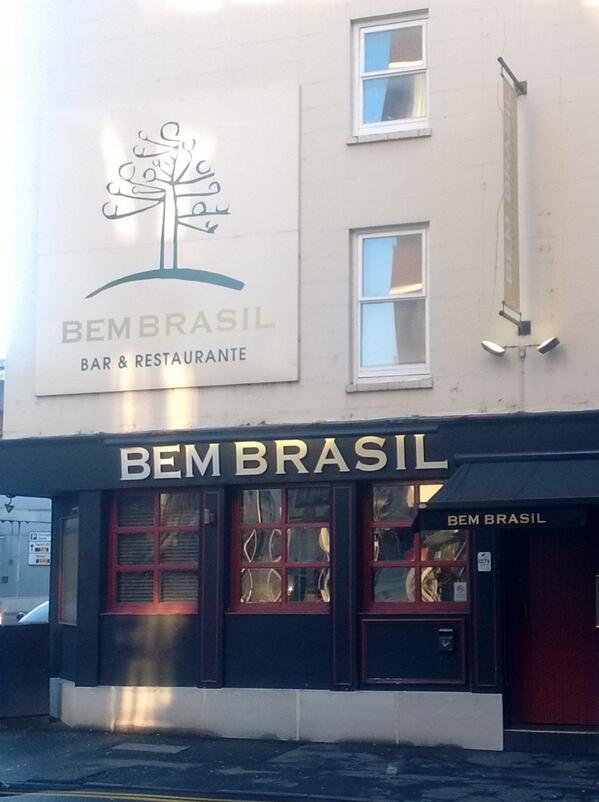 *Bem Brasil restaurant have paid no money for the above mention regarding the loss of their best customer and our (hopefully) former midfielder. However, if they are inclined to offer me a free nosebag for it, I wouldn't say no…
Thanks to Pete Garton, Neil Meehan and Peter W Murphy for their help in writing this