There was an air of uncertainty and discontent in 1987 as Red News first graced Warwick Road with its presence. The magnitude of the job Alex Ferguson had in front of him was becoming increasingly apparent and whilst it was early in his incumbency, such was the turbulence of Manchester United's season, there wasn't 100% confidence on the disgruntled terraces of Old Trafford that he was the man to repair the debris left to him by Ron Atkinson.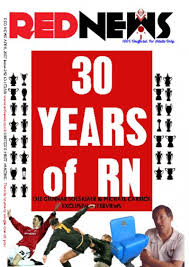 In the wider world, Margaret Thatcher's government were continuing their vendetta against football fans. One of these ideas was to make every football supporter carry membership cards for the club they were affiliated too when attending matches. It was around this time that United introduced their own shitty membership scheme, the benefits which included 10p off a pencil rubber in the newly fangled superstore for the commencement of the 87/88 campaign. One of the most controversial measures of this scheme was making the Stretford End terrace members only, where the Stretford Paddock was fine for anybody who wanted to attend. This resulted in a lot of refuseniks (this writer included) moving over to the Paddock and it's also this writer's opinion that the Stretford End was never quite the same after this.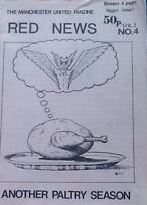 Eleven years earlier, punk, a form of music made by disenfranchised kids for disenfranchised kids exploded on the music scene. Punk was a reaction from real people who were pissed off with being fobbed off with anodyne corporate approved music that was polluting the ears of kids in those days. The fanzine movement effectively used the ethic of the punk movement to give fans a much needed reality away from the sanitised scribes and sanctimonious commentaries on television (a sanctimony which alas, survives in the modern era with TV commentators).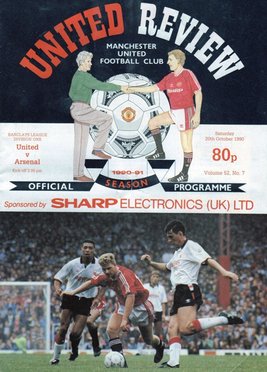 In those days, the only information available to the vast majority of football fans was via the match programme, the Manchester Evening News, local radio or television. United's correspondent at the Evening News was the popular and thoroughly decent David Meek. As decent as he was undoubtedly was, he had by 1987, become a mouthpiece for the club as opposed to a journalist reporting on the club. The fact that Meek was so hostile to fanzines (particularly Red Issue) is if anything, a testament as to how much they were needed. The proliferation of fanzines that sprung up in the late eighties was a reaction to the safe and mostly clueless coverage of football from the mainstream media. As Old Trafford lad and boyhood red Morrissey sang in a contemporary song, this "says nothing to me about my life". Reds and football fans in general needed an outlet and what was unleashed was a culture of football coverage written by football fans for football fans. At Old Trafford, Red News led the way with that when the first issue appeared on Easter Monday, 1987.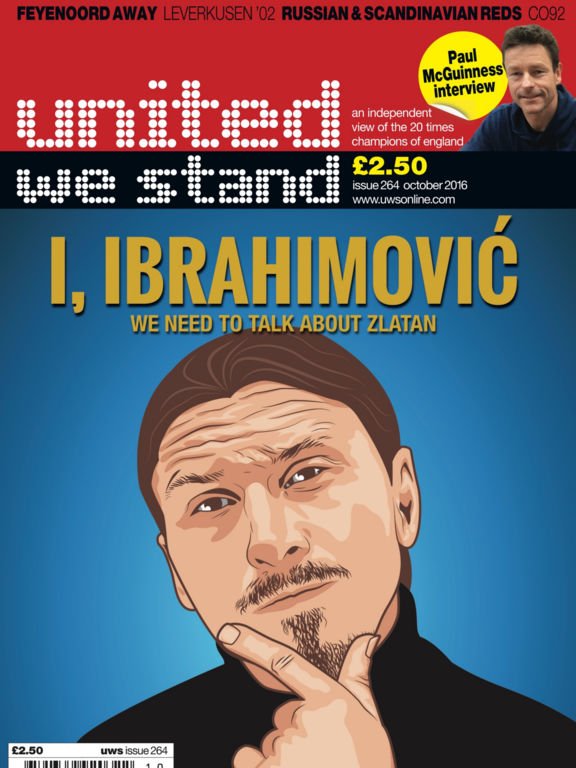 This wasn't the first time in recent times that United fans had organised themselves into a movement of their own to either talk about things for other reds, or protest at what was happening at the club. Three years prior, there was fevered speculation that Bryan Robson was going to be sold to Sampdoria for "a staggering three million pounds" (© all the British press, spring 1984). Before the Arsenal home game on the 17th March 1984, every turnstile at Old Trafford was manned by somebody with a clipboard and pen taking signatures for a petition against his sale. An angry Stretford End chanted "Robson must stay" and "Are you listening Atkinson" as United won 4-0. Four days later, Robson cemented his place in United history and that summer, he signed an unprecedented seven-year contract to stay at United.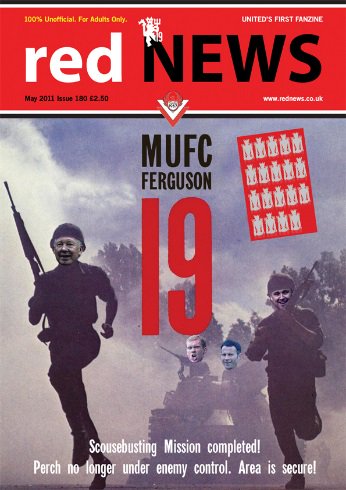 Two years later, United, having squandered a commanding position in the title race were heading for the relative ignominy of fourth. Ron Atkinson was being widely blamed for United's rudely sudden decline and a feeling of revolt was in the air as United played Sheffield Wednesday live on ITV on April 13th 1986. Outside the stadium, leaflets printed on red paper were being handed out by angry United fans lampooning United's manager. The mood didn't improve during the day as United slipped to a dismal 2-0 defeat in front of an equally miserable crowd of 32.331. That afternoon saw the first chants of "Atkinson Out" loudly emanate from United Road and by the full time whistle, whoever was left in the mostly empty stadium was concurring with the sentiment. This moment could arguably mark the true beginning of the fanzine scene at Old Trafford.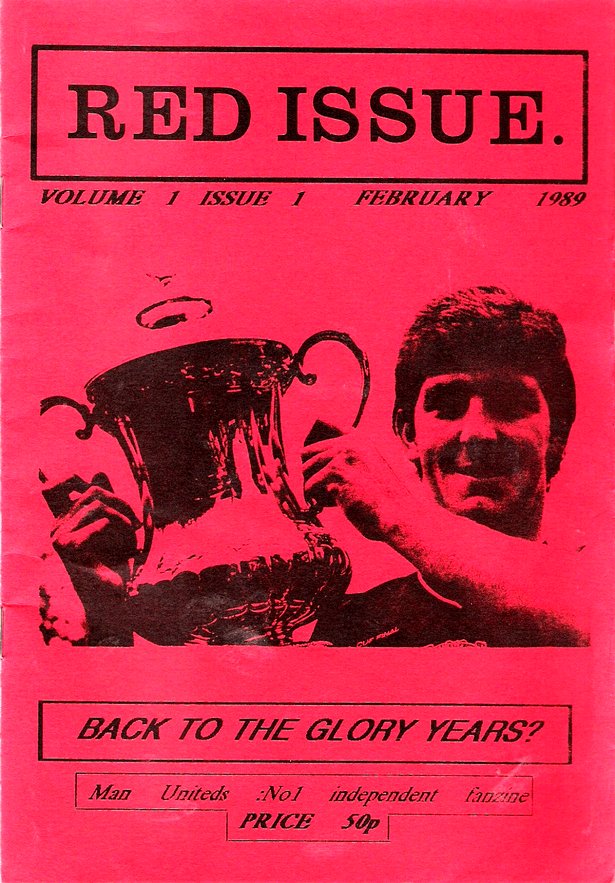 When Red News first appeared just over a year later, it was and to this day remains, independent of United. Fanatically supportive yet fearlessly critical as and when the respective writers feel the need to be so. It was badly needed and it also encouraged other match going reds to share their thoughts and experiences of being a red. Red News gave an outlet that was previously unavailable to reds to share clued up anecdotes about being a football fan and was also an inspiration for some savagely irreverent humour, a humour that never made its way into print in those days
.
One unexpected result of Red News starting was where fanzine sellers would be repeatedly asked "is that the programme mate?" and the best one, "where is the ground mate?" (answer, "see those 100 foot floodlights/mound of steel and glass there? yeah, there") This is a practice which thirty years on, survives.
In February 1989, Red Issue appeared with their first edition at Bournemouth away in an FA Cup match. Original Co-Editor of Red Issue, Veg, told Red News that "in many ways Red Issue was born out of Red News. Myself and Zar (co-editor) had both written the odd piece for Red News, but we had differing views from Barney. We very much favoured an A5 format and in those days, Red News was printed in A4. We were also comparatively a lot more irreverent in how we viewed the United".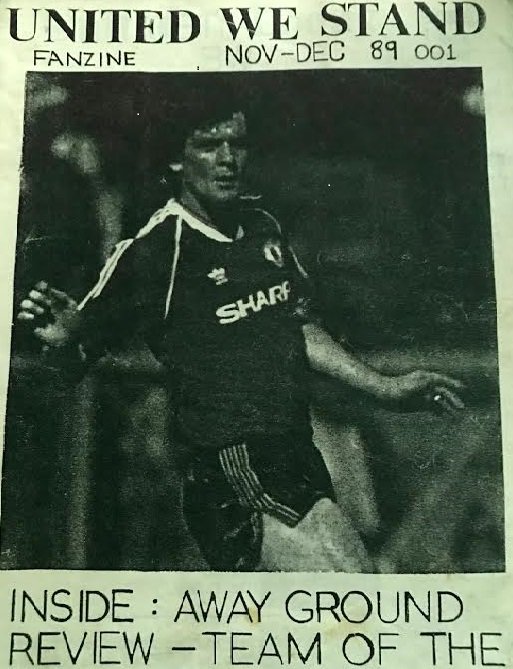 Later that year, Andy Mitten, a fifteen year old Urmston lad started up United We Stand. Andy has always celebrated the fact that the United fanzines actually liked each other, a phenomenon which is rare amongst other football clubs fanzines. Veg concurs with Andy, saying "It always amused me to look at other clubs where fanzines bitched about each other constantly. Readers don't want to see that you hate the other fanzine, they want to read that you hate Leeds, Liverpool, Manchester City etc, and we gave them that in spades. Also, at United it was obvious to each of us that the other editors were home and away reds, and once that particular tick was on anyone's Red CV, they were alright by me. It also struck us in the early days when there were threats of being moved on by the police and local council that a United voice was better than three individual ones".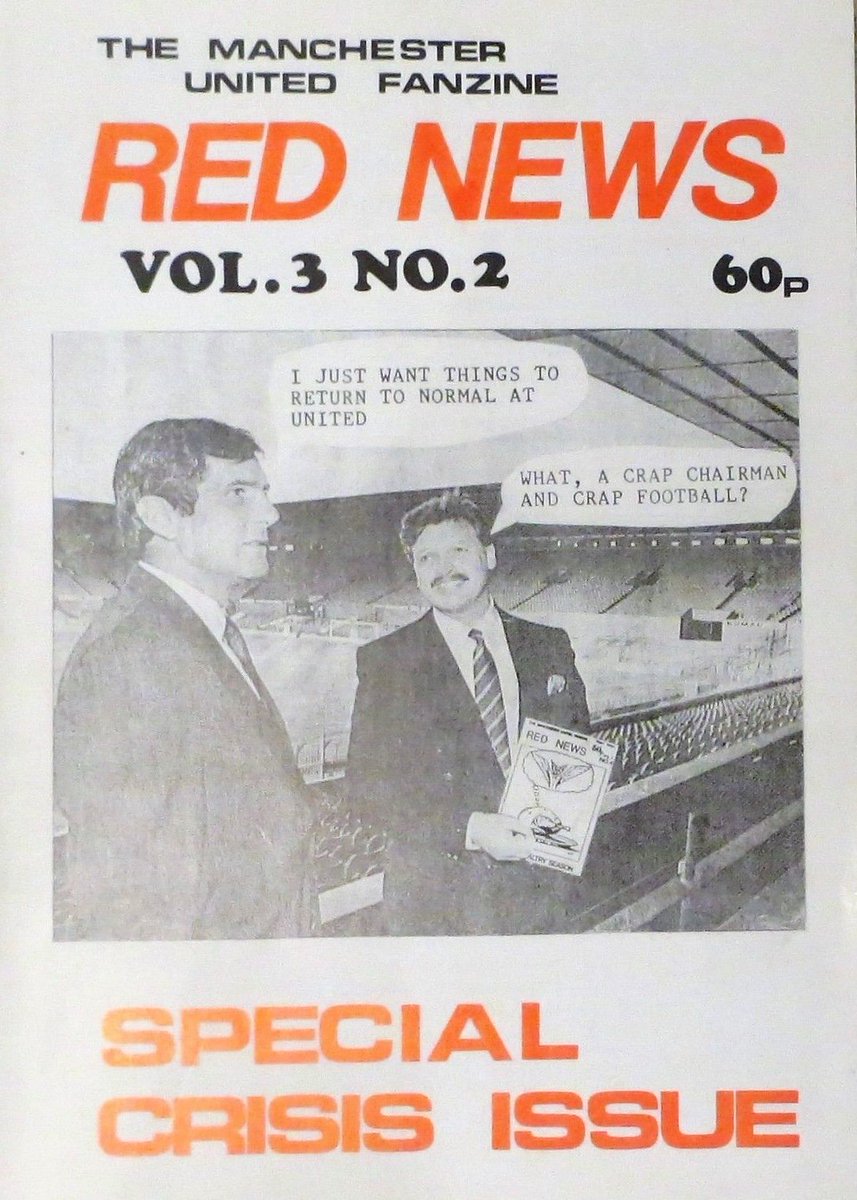 From 1990 onwards, a plethora of fanzines started being printed and sold on Warwick Road. The Shankhill Skinhead, Walking Down The Warwick Road and The K-Stand immediately spring to mind. United, well aware of the popularity and money making opportunities in the summer of 1992, started the Manchester United magazine and had young lads on Warwick Road selling it shouting "Man United official fanzine". The following summer, United started selling the match programme outside the ground. The first time this happened was for a pre-season friendly against Celtic but things went slightly awry. Programme sellers were placed in plastic booths on Warwick Road, but what nobody had banked on was pissed up Celtic fans en-masse rocking the booths from side to side and scaring the shite out of the seller inside.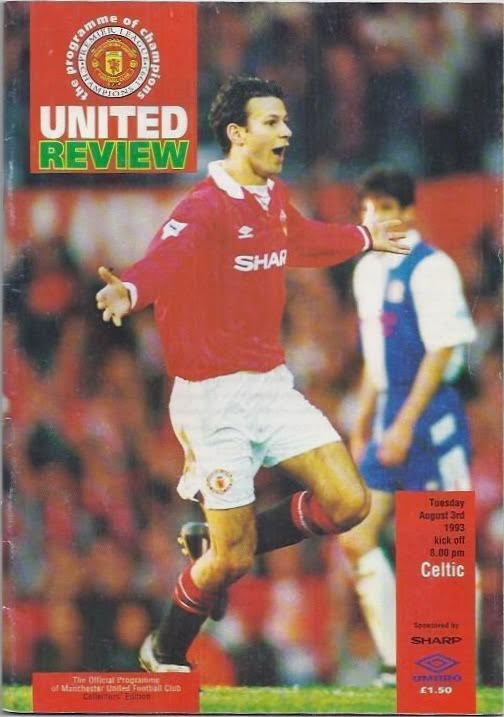 Around the turn of the millennium, the decent Joe Royle's Head also appeared, but didn't last long. Melissa Moore, a well known face amongst reds was co-editor of Joe Royle's Head. Melissa told Red News that Joe Royle's Head folded due to printing costs and a bit of disillusion. Melissa said "I think it was around the time the Dog & Partridge was bulldozed and modern football started to warp away from the game we all grew up with".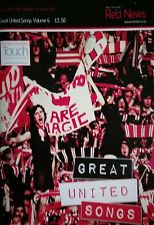 Melissa was also a big fan of Great United Songs, which Red News occasionally published. Melissa said "the stories behind the songs, many written by the actual composers (Mallet et al) told the tale of United's history and still invokes pride even if many aren't aired in the ground anymore". Melissa also made it abundantly clear that it should be reprinted. Paul Davies, who has edited United Review since 2006 agreed with Melissa. Paul said "I enjoyed the songbooks that Red News did. Nobody else was doing that at the time and just to have it all in one concise place was really good. I also liked "If The Reds Should Play In Rome Or Mandalay" (1997), the book that Barney put together. It is authentic and it was written by people for whom United mean everything. You can read a journalistic account of all those fans drinking on the Ramblas and such, but where were they drinking? Who were they with? What funny things happened? That's what interests the reader and that book told all the great stories".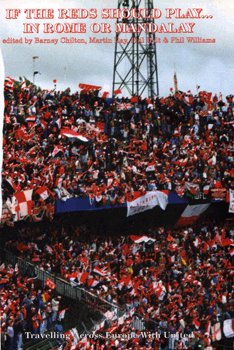 Paul also paid tribute to Theresa McDonald, Barney's Mum, and her contribution to the fanzine scene. Paul said "reading Theresa's words, you could see how knowledgable she was and how much United meant to her". Veg agreed, saying Theresa "was a lovely woman" and Melissa Moore said "I loved everything that Teresa wrote. She was an absolute icon for most of us girls who went. She had no fear and went all over the world without a thought. She showed all of us that women could do anything, especially support United, as well as or even better than the blokes".
Throughout the years, Red News, Red Issue and United We Stand thrived. Paul Davies said that "You can buy Red News and United We Stand and you've not wasted any money by buying both of them. I think United We Stand are quite different in the way they approach things. Andy takes United We Stand down a journalistic route because that's his background. There's enough variety in both fanzines. Barney is a lovely bloke. Everybody likes Barney and everybody likes Red News and it's reflected in what he writes".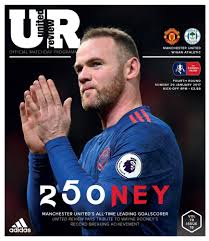 Paul also says about United Review, "those who work on it have been immersed in United fan culture all our lives and we want to reflect that. It's highly likely that what we're interested in other fans will be interested in, too. In some ways I would say that the fanzines have an influence on our thinking, of course. Sometimes when we're coming up with feature ideas for the, it might be something that we've seen in the fanzines that sparks an idea for us to go to. We're the club's official programme and as such need to approach it in a way United Review can, such as the historical feature we had on the 1995 trip to Volgograd in the Rostov programme recently. The fanzines can say whatever they like, within reason, but we're a mouthpiece for the club and take our stance accordingly. You see supporters with fanzines and the programme in their hand, showing that the two can coexist."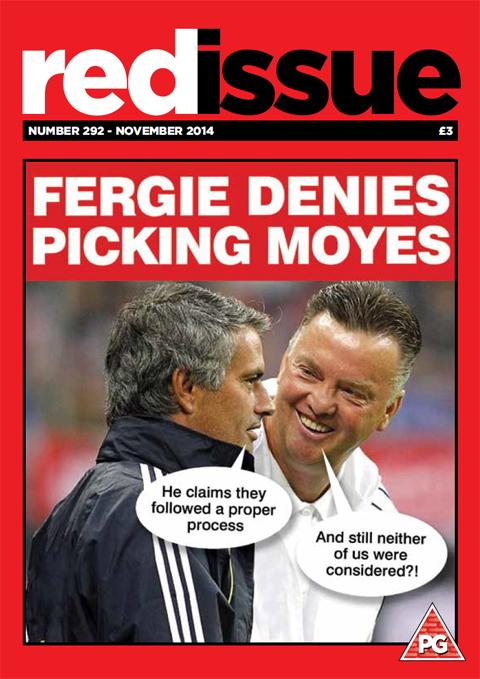 All three fanzines were different in their tone but all three were edited by passionate and knowledgeable reds who'd done the miles and knew the score when it came to what the feeling was on the terraces. JP O'Neill, who took over the editorship of Red Issue in 2001 told Red News "Whilst running Red Issue I'd always look to crack the whip and make sure that our sellers were out in position on Warwick Road as early as possible, especially for an opening day's sale. Try as we might, we'd never be there before Barney and he'd have usually come up from London. Whatever the weather, there he'd be – and still is – mags in hand, imploring punters to buy one, or just chatting to passing acquaintances. I know from experience that it's in that dead time before 'the rush' that you can pick up some of the most intriguing and well-sourced gossip from Old Trafford regulars. Red News record on inside scoops has always been impressive and is testimony to the esteem in which both the mag and Barney are held".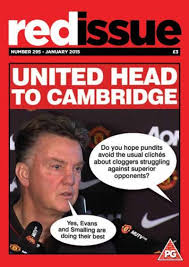 As we celebrate thirty years of Red News, Lord only knows what the future holds for the printed fanzine. Most fanzines which sprung up in the late eighties/early nineties boom have now folded. This is mostly through being the victim of the internet or in the Red issue's Cantona-esque passing, because of the smell of bullshit in the football world. In 2014, Red issue celebrated their silver anniversary and in a prophetic editorial, made it clear that it wouldn't be around for another twenty-five years. Paul Davies says "I think the fanzine scene at Old Trafford is thriving. Red Issue felt that they fought the fight for long enough and I appreciate that. I admire their conviction and principles for doing it, but I think they were in a good position in the sense that people still wanted it and no doubt miss it". Melissa agrees with Paul on Red Issue whilst also celebrating the overall fanzine culture at United. Melissa said "I think Red Issue stopping has been to the detriment of the fanzine scene at United. Variety being the spice of life and all that – Red Issue holding the club to account and taking the piss; United We Stand with more in-depth and more literary articles, and Red News educating us on our history and travels with genuine heart."
United We Stand is as strong as ever with record postal subscriptions, robust sales outside stadia and regular nominations for British fanzine of the year. Andy Mitten said that "thirty years is a belting shift and I still enjoy every issue of Red News. I like seeing Barney outside the grounds in all weathers, steadfast in his support for United". JP O'Neill agrees with Andy, saying "it's hard to believe Barney has now overseen thirty long years on Warwick Road. Seven or eight years ago it seemed like the end was nigh; Barney continually convincing himself – and all of us too – "I'll get to 25 years and probably call it a day." That length of tenure was quite the achievement so for him to be marking another five year milestone is as notable as it was once unexpected."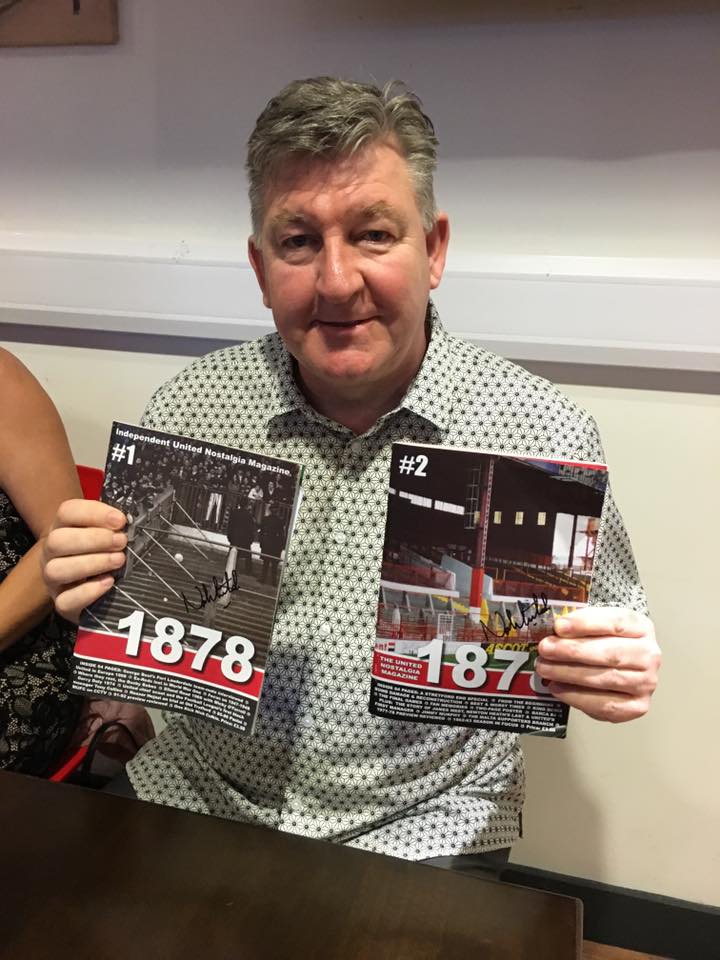 Whilst many fanzines have, for varying reasons, ceased publication over the years, the future looks bright for the fanzine scene at United. With United We Stand's continuing popularity, Red News's thirtieth anniversary, a new fanzine, 1878, has also recently appeared on Warwick Road. Melissa Moore says "1878 mag is a great new addition to the scene and appeals to those of us who are proper United and care about our history. Hopefully it will buck the trend of print media depletion though I bet the sellers will still get asked if it's the programme!"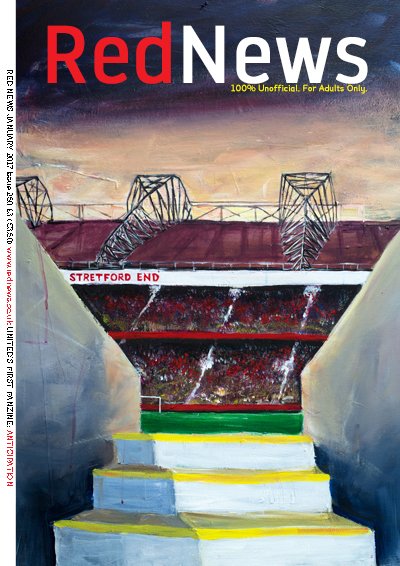 Last word goes to JP O'Neill, who says "There will eventually come a day when Barney packs it all in and returns to the nice, warm and dry environs of the pre-match pub. Thinking about it, it's probably for the sake of his liver that he hasn't done so yet, but it'll be a sad day when it comes to pass. Here's to the inevitable 40th anniversary of Red News, keep flying the flag Barney". So say all of us.
Buy the fanzines, subscribe to United We Stand here http://www.uwsonline.com/subscribe.php